When is an Aston Martin not an Aston Martin? When it's a Lagonda. And especially when it's… this. The Vision Concept.
The nameplate actually pre-dates Aston Martin: An Anglo-American former opera singer called Wilbur Gunn founded the company in 1909, named it after the river near his Ohio hometown, and created a number of stoic-looking sedans and convertibles before the company was acquired post-war by David Brown. He'd also just bought Aston Martin (You'll recognize the initials), and they merged.
Progress was patchy thereafter. Aston's current vice president Simon Sproule, a former Nissan VP who had a spell as a lieutenant to rocketeer and sometime electric car sage Elon Musk, thus refers to Lagonda as 'a 110-year-old start-up.' Cute.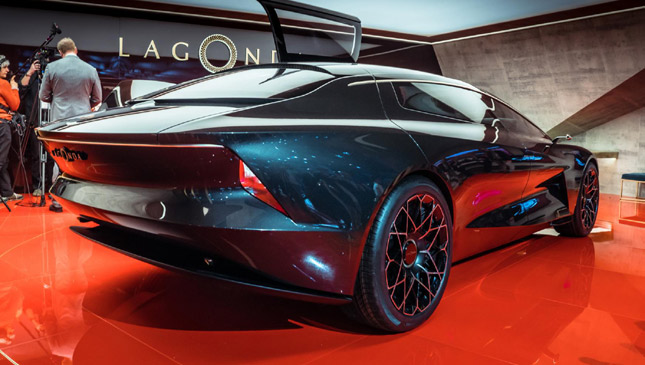 Continue reading below ↓
Recommended Videos
TG has been granted exclusive access to the AML design studio for a preview, many months before its Geneva show big splash, and even lurking under a cover this is clearly no ordinary car.
Forget 2009's lumpen SUV concept and wrap your eyes—and brain—round the Lagonda 'Vision Concept,' an epic fully electric super-limo that aims to make the Rolls-Royce Phantom look as lavishly appointed as a knackered airport rental. Lagonda has aspirations to become the world's first zero-emissions luxury brand, to 'confound,' and to align some ye olde luxury thinking with the sort of glistening future world Jared Leto's sociopath stalked in the magnificent Blade Runner 2049.
At 5.3m long, and clothed in a body that is unapologetically confrontational, iconoclastic, and utterly magnificent, the Lagonda is reactivated in response to trends among the new global super-elite. Not least in positing an ethical super sedan in which it's better to travel and arrive. Car people talk about 'white space,' into which they insert profitable new products unimagined by rivals. Well, the white space here is garlanded by dollar—and yuan—signs. Lots of them.
"As Aston Martin Lagonda we have a bandwidth that's unique," AML's director of exterior design Miles Nurnberger says. "Rolls-Royce can't make a Ferrari, Ferrari can't make a Rolls-Royce. But with these two brands, we can do both."
True that. It also brings one of our favorite cars in from the cold.
Back in the 1970s, a generation of mostly Italian design prodigies stopped creating cars that referenced the curvy bits on Sophia Loren and started drawing wedges. Tellingly, this vision of the future has never been surpassed by the actual future. Lamborghini's Countach remains the gold standard, but it was an Englishman called William Townswho truly threw caution to the wind when 1975's Aston Martin Lagonda landed, apparently from a parallel dimension but made in the English Midlands.
It arrived as Aston endured another existential crisis, kept afloat by, among others, an American entrepreneur called Peter Sprague, who was a rising star in the emerging Silicon Valley.
"As the Lagonda began to take form," Sprague later wrote, "I added my own special contribution—related to my background in the world of micro-electronics. The car looked amazingly modern, so why not add an all-electronic, computer-based information and control system and really join the 20th century? It was an excellent idea but about 15 to 20 years ahead of its time."
No kidding. Even now, perhaps more than ever, the Towns Lagonda is mesmerizing, and 2018-spec Aston is no longer shy about referencing it. There's enough heritage here to claim authenticity, but not too much baggage to derail the project. Nurnberger picks up the theme.
"What is modern luxury? There's a very traditional point of view in the luxury segment, yet things have changed massively, particularly in the past two or three years. There's a much more progressive attitude—the whole world has become more of an early adopter."
The new car picks up the continuum abandoned when its precursor faded out in the 1980s. "There's a sense of wonder about it that goes beyond being a car. What is that thing, and where did it come from? It doesn't look like it came from anywhere normal. Of course, it was very polarizing, but anything that sparks that much imagination and gets the neurons firing…"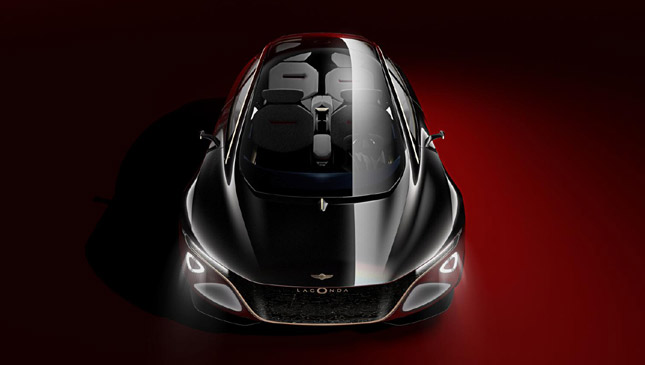 The reboot certainly does that. Effectively a giant blade, its codename during development was Concorde, and it evokes the same futuristic wanderlust as supersonic air travel (a major technological threshold reached and abandoned by humankind). The new Lagonda will use solid state electric batteries secreted under the floor, good for 400 miles (645km) between wireless conductive charges. This also enables it to debunk traditional automotive form language, a truncated nose seguing into a vast glasshouse/roof, and resolving into an abbreviated quasi-tail-fin. Is it pretty? Not conventionally. But that hardly matters.
"Clearly, we want to make something evocative and exciting for the future," Nurnberger says. "The Lagonda client is changing, they're becoming younger, more international than ever before. Aston Martin is a British brand, Lagonda is global. It's a Samurai sword. Lagonda has to break new ground, it's the technology part of the company. It's got to look like it was made on Mars. We want people to say, 'What is that? How have they done that?' It'll mean discomfort, and naturally there will be some criticism. But it's a vision, and we need to break new ground."
Design director Marek Reichman puts it this way. "The shape of the Lagonda Vision Concept is the result of satisfying a number of different requirements. The need to make a bold design statement, to establish Lagonda as a company of the future, and to show how technological advancement can help liberate design, too. It's a shape formed by the collision of invisible forces, like those made by magnetic particles in an electrical current. The secret is to understand how to connect that shock and change it to beautiful surfacing."
Judge for yourself, and enjoy the discomfort. But we approve of this sort of disruption. Besides, the Lagonda hasn't abandoned all sense of tradition. AML has hired furniture maker David Linley, 2nd Earl of Snowdon, to consult on the car's interior, though he's surely never been involved with anything like the Lagonda's epic cabin space, accessed through vast roof-hinged doors.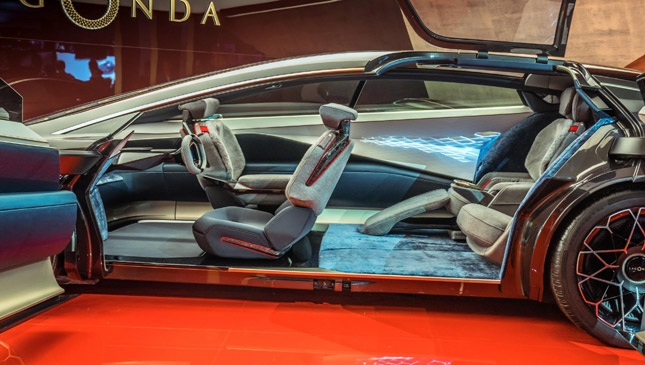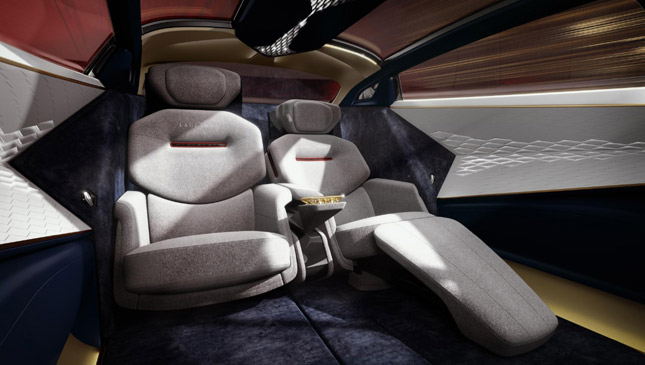 "We talked about the seats as being akin to a throne," interior design boss Matt Hill says. "Then we realized that that might not have been the smartest thing to say to David. Fortunately, he understood where we were coming from. There's a plushness inside, a sense of movement in the surfaces. We were also influenced by military jackets, and the detailing you associate with tailoring. Buttons, pleats and folds, turn-ups on trousers.
"There are ceramics inside, silk carpets, and woven wool upholstery. We want to incorporate some of that into the way the seat's constructed. We're treating them as a piece of furniture; the nature of the space is so much more than just somewhere to sit while you're being transported."
And not even Concorde managed that.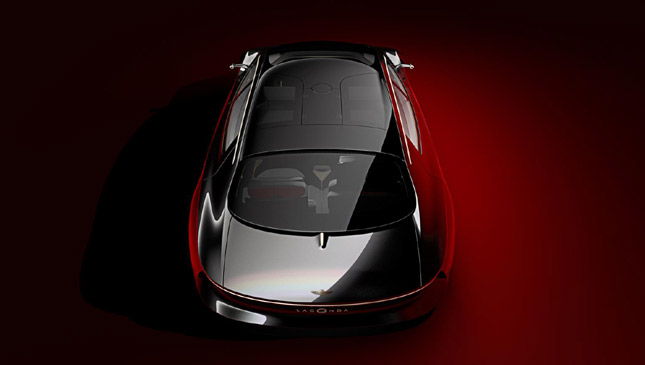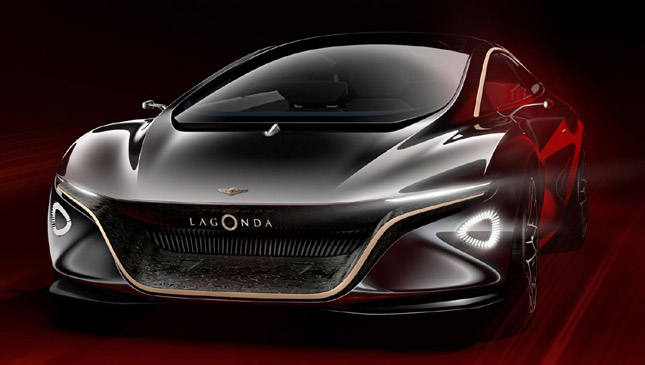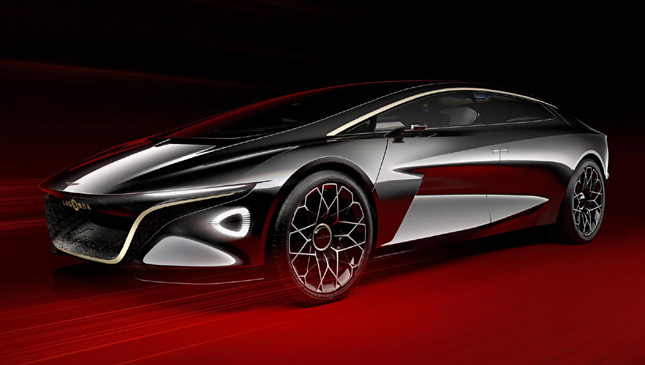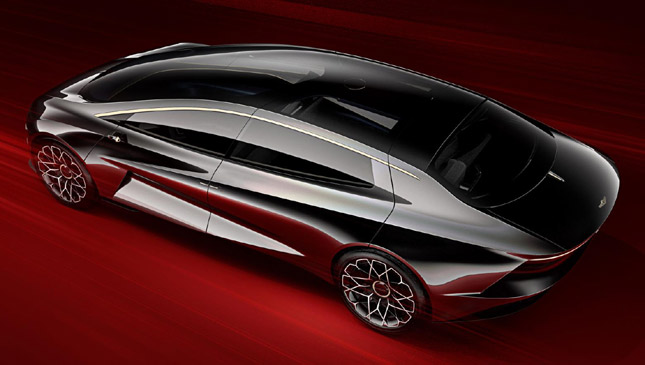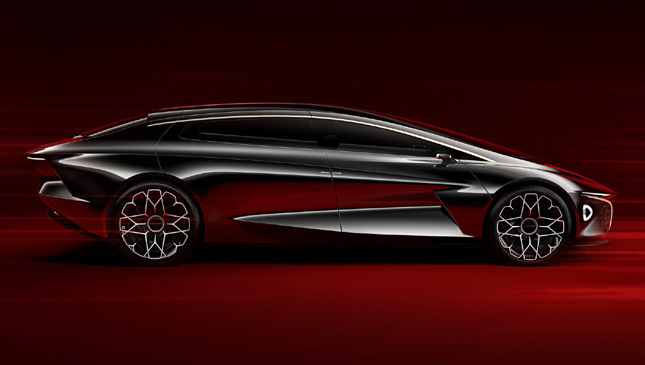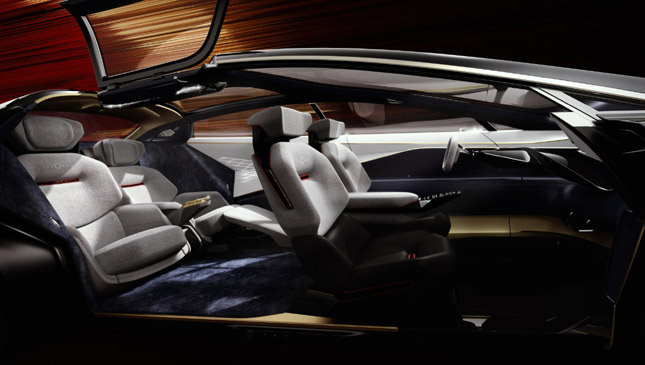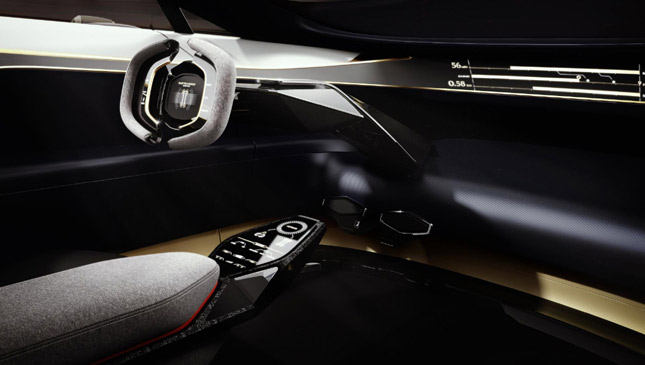 NOTE: This article first appeared on TopGear.com. Minor edits have been made.