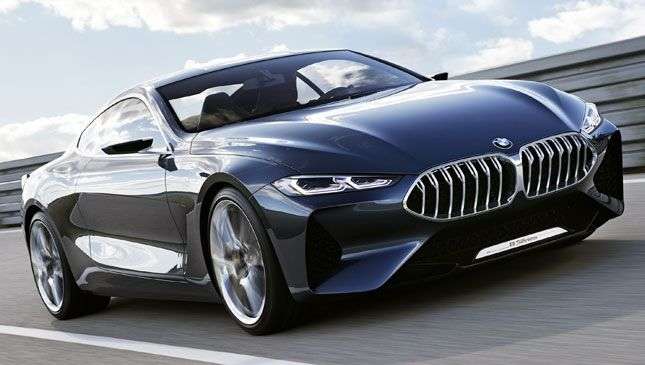 Once upon a time, BMW produced a flagship coupe known as the 8-Series, which it built from 1989 to 1999. Although it didn't sell in high numbers, it was luxurious, powerful, and attractive, especially with its M1-style nose and pop-up headlights. After almost two decades, the German carmaker feels it's the right time for the 8 to return.

The Concept 8-Series will make its public debut at this year's Concorso d'Eleganza Villa d'Este, which runs from the 26th to the 28th of May. As the name implies, this is a (thinly veiled) concept that previews the production model BMW will introduce next year. The German carmaker plans to use the new 8 to further expand its luxury car range and assert its leadership in that class.

The first thing you'll notice is how different it is from any other modern BMW design besides the i-series models. You'll notice its long, low, and sleek profile and its wide stance are probably the most expressive of any of the German carmaker's modern products. Up front, its wide kidney grilles and slim headlights gives it an aggressive look with a touch of class, while large front intakes hint at the performance this vehicle will be capable of.
The Concept 8-Series is one of the rare instances where a Bimmer doesn't have a prominent character line running along its sides. Instead, it has scalloped sides for its fender-mounted vents that form an upper and lower line. Moving further back, wide prominent haunches give the car a muscular appearance. At the back, its slim blade-like taillights, large openings, carbon fiber diffuser, and trapezoidal exhaust tips are pure exotic—a view which will probably be familiar to most motorists.

Inside, the 8-series features a cockpit-like interior with a dashboard that blends into the door panels. Its center stack flows down to the high center console; this is a break from the German carmaker's recent move to horizontally divided dashboards. It features a fully digital reconfigurable instrument cluster, plus a steering wheel with polished aluminum spokes and track-inspired red anodized shift paddles. Its carbon shell seats upholstered with high-quality leather are a perfect blend of sportiness and luxury.

While BMW hasn't announced any details regarding the Concept's mill or the engine lineup of the production 8-Series, it will most likely share some powerplants with the 7-Series and maybe some exclusive to the coupe. With any new BMW model introduced, one of the most frequently asked question is: Will there be an M version?Bmwblog did report last year that BMW registered several new model names which supposedly included "M8," let's hope they build one.

Watch out, Aston Martin.