If there's one way to fix the Malaise Era, it's with modern muscle. And we're inclined to believe that Chevy's latest is definitely muscular enough. In fact, the menacing bruiser you see pictured here is equipped with the sort of brute force that's usually reserved for bullet trains: a full 755hp and 968Nm of torque.
Yes, this is the car equivalent of a man who crushes his empty Miller Lites against his forehead, regardless of the fact that they're actually glass bottles. And it's just one of three muscle machines that Chevrolet has built (although, oddly, it's the only one that's been photographed) to showcase its new range of bombastically powerful crate engines ahead of the Specialty Equipment Market Association Show (SEMA) in November. There'll be a pair of trucks on the stand displaying variations on the 'Chevy V8 swap or GTFO' theme, but our interest is firmly in the Chevelle.
Back in 1973, the Chevelle Laguna came as standard with a 5.7-liter V8 capable of an incomprehensibly paltry 145hp. If you were so inclined, you could spec a four-barrel carb version with 175hp, or dispense with any pretext to economy and plump for a 7.4-liter big-block V8 with a storming 245hp. Ah, the '70s, when there really was no replacement for displacement. And when synthetic velvet was a totally appropriate fabric to wear to a nightclub.
Continue reading below ↓
Recommended Videos
This particular 1973 Chevelle Laguna's frankly absurd 755hp comes courtesy of Chevy's 6.2-liter LT5 V8. Its other home, as Chevrolet fans will happily tell you, is underneath the hood of the unhinged Corvette ZR1.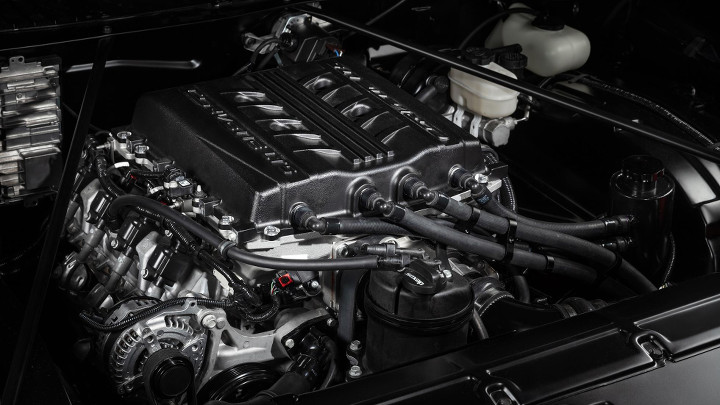 A more American engine is hard to conceive, really—eight cylinders, each with more internal space than a wine bottle, arranged in a V and force-fed air from a supercharger that's bigger than most engines. The LT5 has both port and direct injection, because 755hp isn't just going to magic itself out of thin air.
Yes, it's terrible for the environment, and yes, it celebrates one of the worst eras of American cars, and…it's no use. We want this, badly. We want this car, from its red-letter sidewalls to its villainous black-on-black color scheme. And, perhaps even more, we want the culture that created it because of an adherence to a simple mantra: Driving a car can be really, really fun, so why don't we make sure it is?
It's the sort of thing you just can't imagine happening in an environment as staid and overtly serious as ours: Manufacturers selling their engines directly to punters, so they can tear old cars to bits and massage in an engine with about six times more power than is strictly necessary. Why? Well, why not?
NOTE: This article first appeared on TopGear.com. Minor edits have been made.