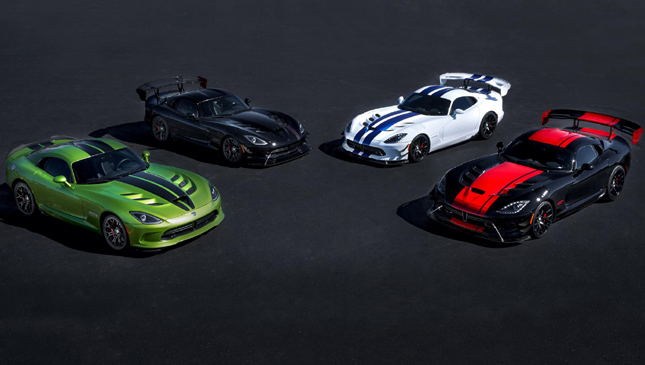 When you think of cars that put America on the map, the Dodge Viper is one of the few special ones that come to mind. It was back in 1991 when the world got its first glimpse of its long and muscular profile. And 25 years after the car's launch, the Michigan-based automaker is celebrating its success with a bang.
Well, in this case, the celebrations are bittersweet. While the Snake toasts its silver birthday, it will also be making its final production run, set for 2017. The model's last hurrah will offer five special editions that showcase what this model is all about. No better way to go out.
First up is the 1:28 Edition ACR, which pays tribute to the 1:28.65 lap record set by Randy Pobst on-board a Dodge at Laguna Seca. The model is distinguished by black paint and red stripes. It is also matched by a painted rear wing, carbon ceramic brakes, an aero kit, 1:28 sill decals, ACR red-accented interior trims, and ACR logos that bear the car's serial number. Only 28 units will come out.
Next up is the Viper GTS-R Commemorative Edition ACR. This pays homage to the1998 Viper GTS-R GT2 Championship Edition. The variant is finished in pearl white with blue-pearl GTS-scheme striping, carbon ceramic brakes, more exterior carbon trims, a red Stryker decal, and a US flag on the B-pillars. The cabin features red stitching, red seatbelts, and a serial number.
Remember the Dodge Viper VooDoo Edition that came out in 2010? The VooDoo II Edition commemorates this with a black finish and graphite metallic stripe with red tracer outline. It is enhanced by carbon ceramic brakes, an aero kit, VooDoo II decals and the ACR interior with silver accents, VooDoo badges and serial number plates.
ADVERTISEMENT - CONTINUE READING BELOW ↓
This being a Viper, it's only natural that a snake motif be offered, too. Enter the Snakeskin Edition GTC. The Snakeskin Green with a matching patterned stripe was inspired by the 2010 Snakeskin ACR. The car's SRT stripes go nicely with the extreme aero package, black interior trims, snakeskin badges and serial numbering. A total of 25 units will be offered.
Lastly, there's the Dealer Edition ACR available only through Dodge's high-volume dealer network. The 33-unit release will be set in an exclusive white with blue center stripe paint combination. This is matched by an Adrenaline Red stripe, carbon ceramic brakes, and an aero kit. The ACR interior has red trim stitching. All special-edition models come with car covers that match each one's look and bear the owner's name.
Apart from these special editions, Dodge is also selling the Viper with the unique 1 of 1 customization program. This allows would-be owners to choose from as many as 16,000 exterior colors, 24,000 stripe combinations and colors, and a slew of other options. It's the ultimate way to let the world know that the Viper you're driving is your very own.
While all these choices are exciting, it's still pretty sad seeing the Viper go. The American muscle car scene will never be the same. You will surely be missed, Snake!