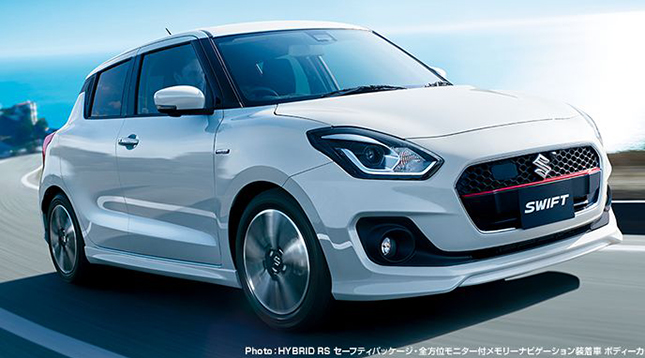 Wow, subcompacts are really starting to look better and better with every new release. The all-new Suzuki Swift made its Japanese debut earlier today, and we have to say we're really digging its new appearance. It's just the latest entry in the list of recently unveiled city cars with killer designs.
The first thing to hit you will be the Swift's vastly redesigned front end. Gone is the vehicle's curvy shape and exaggerated swept-back headlights, replaced with sportier-looking LED lamps and a larger, unified grille. The rear's updated look is equally impressive, as Suzuki has swapped the arching taillights with a tamer, albeit sleeker, squarish design. Combined with its straightforward lines, the back end now looks better-sculpted and more solid as a result.
You'll also notice that the Swift's rear passenger door handles have made their way up, joining the likes of several other cars which have gone with the trend. Overall, the all-new Swift features a more dynamic appearance with sportier design elements befitting its moniker. It's a long overdue makeover, if you ask us.
Inside, the Swift boasts a new-look interior characterized by a completely redesigned dashboard, modern controls (the previous gen's knobs and dials are archaic at this point), and a sporty, flat-bottomed steering wheel. You can see a touchscreen infotainment system in play as well. All of this makes for just as drastic an improvement as its exterior.
The Japanese market can choose between two engines: a 1.0-liter turbo gasoline engine, and a 1.2-liter hybrid. Both engines, Suzuki says, offer superb performance and low fuel consumption. The company has already announced that the all-new subcompact will arrive in markets other than Japan, and that the overseas-spec units will be unveiled at the 2017 Geneva Motor Show in March.
We're very excited, to say the least.