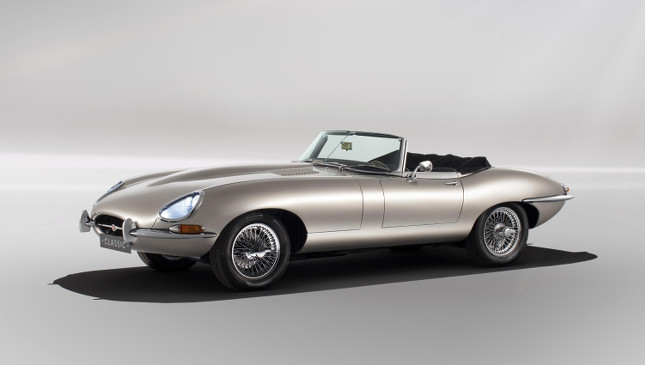 Remember the all-electric Jaguar E-Type Zero, which made its debut in concept form last year, and which Prince Harry and Meghan Markle used to drive to their wedding reception in May? Well, it's not a concept anymore—Jaguar has officially green-lighted it for production.

Jaguar Classic will undertake the restoration and the electric conversion of Series 1 E-Type units at the Classic Works facility in Coventry, UK, where the E-Type Reborn is also produced. And for existing E-Type owners, the British carmaker is likewise offering an EV conversion that is fully reversible. Initial deliveries are scheduled to begin around midyear of 2020.

The E-Type Zero's electric powertrain, which shares many components with that of the I-Pace, measures and weighs about the same as the gasoline powertrain of the original E-Type, ensuring the conversion will not affect the driving characteristics of the car. The 40kWh lithium-ion battery is mounted front-midship, exactly where the XK straight-six engine was before, and just behind it, the 220kw electric motor takes the place of the old gearbox. Jaguar claims that "front-rear weight distribution [is] unchanged."

On a single charge, the E-Type Zero is expected to cover over 270km. Recharging the battery takes six to seven hours.
Continue reading below ↓
Recommended Videos
The car also features minor modifications, including new instruments, an optional touchscreen infotainment system, and LED headlights. Apart from these changes, both the exterior and interior remain faithful to the original iconic design.
"We've been overwhelmed by the positive reaction to the Jaguar E-Type Zero concept. Future-proofing the enjoyment of classic-car ownership is a major stepping stone for Jaguar Classic," says Tim Hannig, director of Jaguar Land Rover Classic. "The E-Type Zero showcases the incredible heritage of the E-Type, and the expertise and craftsmanship at Classic Works, while demonstrating Jaguar Land Rover's dedication to creating zero-emission vehicles across every part of the business, including Jaguar Classic."

Do you think electric conversions of classic models will become a trend? And what other classic cars would you like to see with an e-powertrain?