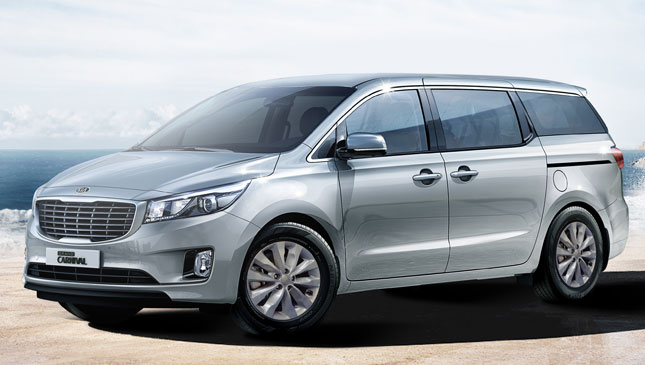 If you've been drawn to the stlyish Kia Grand Carnival, but have been a little put off by its P2.3-million asking price (we can't blame you for looking at the similarly priced Honda Odyssey instead), you'll be glad to know that Kia Philippines is bringing in a more inexpensive version.
The new variant of the Grand Carnival will be priced at P1,575,000, and here's the other good news: It will have 11 seats. At this point, one might expect a pared-down feature set, but Kia has still included competitive features that will make riding this minivan a treat.
The driver can enjoy a 3.5-inch OLED display, tilting-and-telescoping steering wheel, and what Kia calls a cutting-edge multimedia system. Passengers should appreciate the Euro-inspired cabin with flexible seating and cargo options. The second and third rows can be rearranged easily, allowing for versatile combinations of people and gear.
Parents will like the stainless technology cloth. This supposedly makes spilled liquids bead up and be quickly wiped away. Harder stains can be removed with soap and water.
Powering the Grand Carnival is the same muscular 2.2-liter turbodiesel. This is good for 194hp and 436Nm. You can feel the power for yourself by booking a test drive at a Kia dealership.
Continue reading below ↓
Recommended Videos
We're personally curious about this new variant. A handsome 11-seater minivan for the price of a Honda CR-V sounds like a tempting proposition. This is one model we'll put on our to-test-drive list.
UPDATE as of June 12, 2018: Thankfully, those considering the brand's most popular models will be happy to know that the Tax Reform for Acceleration and Inclusion (TRAIN) law's effect on its lineup isn't too drastic. The biggest jump in cost belongs to the mid-level Sportage SL diesel. In 2017, the crossover went for P1,395,000, now it's priced at P1,475,000—that's an P80,000 increase. This is followed by the top-of-the-line Soul (up by P45,000), and the double cab, air-conditioned version of its K2500 light commercial truck (up by P37,000). Other than the models mentioned above, no Kia vehicle saw an increase in price over P30,000. The popular Picanto city hatch's GT-Line variant only increased by P11,000, and the Rio 1.4 GL subcompact hatchback by P20,000. With the exception of its 11-seat model, the Grand Carnival maintained its 2017 pricing, too.