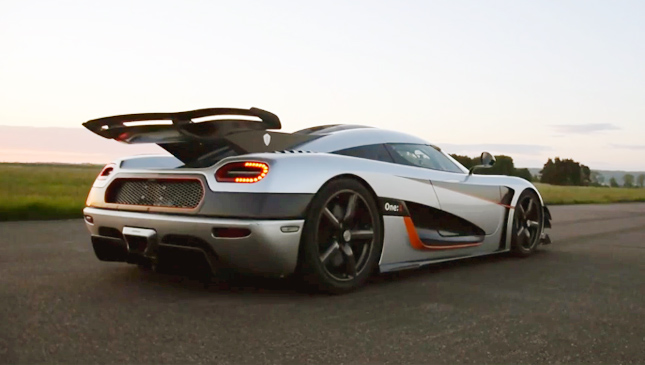 In 2011, Koenigsegg supposedly set six world speed records for production cars with its Agera R, with Guinness World Records officially recognizing the 0-300-0kph sprint of 21.19 seconds as the fastest of its kind. Well, that record has been broken recently by Swedish carmaker's One:1 megacar.

In a four-hour test session held at Koenigsegg's 1.5km test track in Angelholm, Sweden, on June 8, the One:1 development car conducted a series of runs with factory test driver Robert Serwanski behind the wheel. Using the VBox data recorder, the One:1 set the following speeds and times:

* 0-300kph: 11.922 seconds
* 300-0kph: 6.032 seconds
* 0-300-0kph: 17.95 seconds

* 0-200mph: 14.328 seconds
* 200-0mph: 6.384 seconds
* 0-200-0mph: 20.71 seconds
This means the One:1 development car completed the 0-300-0kph run 3.24 seconds faster than the run set by the Agera R in 2011.
Koenigsegg also pointed out that the One:1 car development car "is actually around 50kg heavier than customer cars" due to the addition of a roll cage for safety reasons and because of the weight-saving measures it made to its production cars. Could the car have gone even faster then? Koenigsegg thinks so.
"We think that an even lower time is a distinct possibility with the Koenigsegg One:1, and we will do our best to schedule another session in the near future," the carmaker said in a statement.
Continue reading below ↓
Recommended Videos
Watch the "record" run in the video below.
If you're viewing this on a mobile device and can't see the video, please click here.