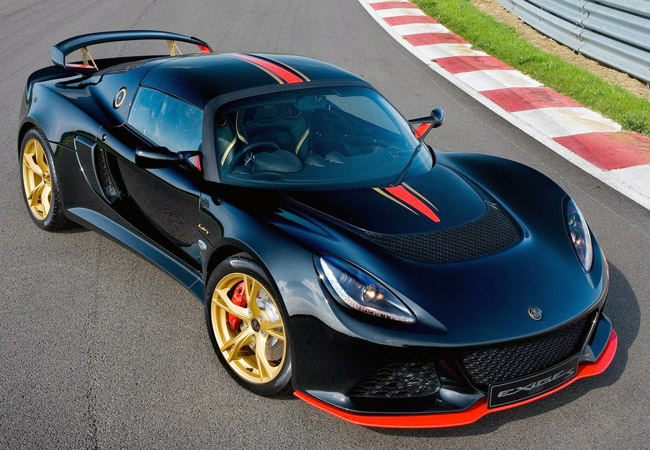 The Lotus Formula 1 Team undoubtedly became a boring squad this season after the departure of driver Kimi Raikkonen (who left for Ferrari). And that is why the British car manufacturer released this extremely cool-looking automobile: the Lotus Exige LF1.
Wearing the F1 team's familiar black-and-gold motif, the car is meant to celebrate Lotus's 81 victories in the sport. As such, each unit of the Exige LF1 has a carbon-fiber plate displaying a specific F1 win scored by the team--from Lotus's first grand prix triumph in Monaco in 1960, to its 81st in Australia in 2013 (courtesy of Raikkonen).
Powered by a 3.5-liter supercharged V6 engine that produces 345hp and 400Nm, the Exige LF1 boasts a bespoke black-and-gold paint job with red accents, 17-inch front and 18-inch rear gold alloy wheels, black-and-gold interior, two-piece high-performance brake discs, and Pirelli P-Zero Trofeo tires.
The 81 gentlemen lucky enough to own this limited-edition Lotus car will become "Exige LF1 members," whose perks include "a behind-the-scenes tour of the Lotus Cars and Lotus F1 Team factories, and a range of Lotus F1 Team gifts and memorabilia."
"The Lotus DNA is born of the Formula 1 arena, and with 65 years of racing experience--40 of those in F1--it's fitting we celebrate our sporting origins and our race successes with the new Exige LF1," says Lotus CEO Jean-Marc Gales in a statement. "Eighty-one limited-edition cars--each one a nod to each of Lotus's 81 GP wins--are intended for the truest of Lotus's racing fans."
Continue reading below ↓
Recommended Videos