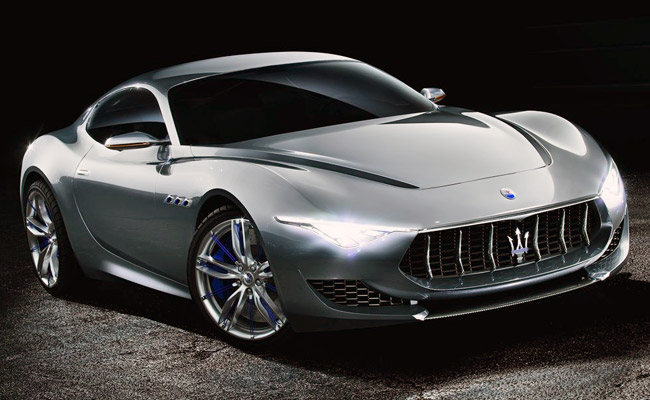 Italian carmaker Maserati, now owned by the Fiat Group, was established in December 1914, making this year its 100th anniversary. To help the elegantly sporty brand celebrate its centennial, the company created this, a 2+2 concept car named Alfieri. If you know your automotive history, you will immediately recognize "Alfieri" as the name of one of the Maserati brothers who founded the marque.
The concept car is the handiwork of a team of young designers led by Marco Tencone and overseen by Maserati design chief Lorenzo Ramaciotti.
"The Alfieri is a transition point between 100 glorious years of history, and the future that is opening up before us," says Ramaciotti. "I can't honestly say that we'll see this car in production in the next two years, but I'm certain we'll see something very similar."
This modern concept car--painted in a liquid metal color called "Steel Flair"--is said to have been inspired by the Maserati A6 GCS-53 from 1954. (The acronym A6 GCS stood for "Alfieri 6-cylinder Ghisa, Corsa, Sport.) It was the last Maserati to be penned by Carrozzeria Pinin Farina prior to the 21st-century Quattroporte and GranTurismo.
But while the designers of the new Alfieri concept drew inspiration from an old classic, its mechanicals were based on a new Maserati: the GranTurismo MC Stradale. The Alfieri's wheelbase, however, is 24cm shorter. Overall, the Alfieri measures 4,590mm long, 1,930mm wide and 1,280mm tall.
Continue reading below ↓
Recommended Videos
Powering the new Alfieri is a 4.7-liter, naturally aspirated V8 engine from Maranello, which develops 460hp at 7,000rpm and 520Nm at 4,750rpm. The powerplant is mated to a six-speed, electro-actuated gearbox (MC Shift).
Does the car's exterior design do justice to a very momentous occasion in the automaker's history?