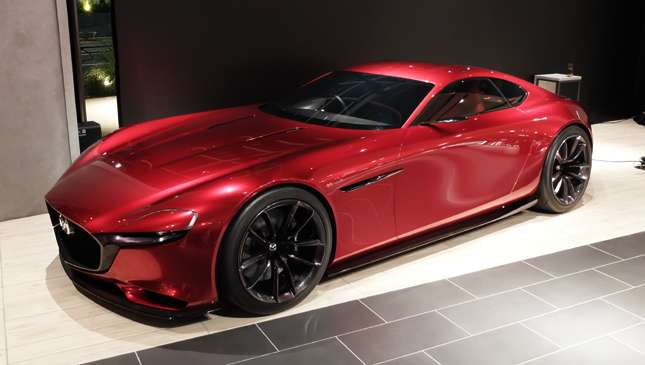 Mazda has been particularly busy with its engine development of late. A couple of months ago, the Japanese carmaker announced that a new engine line, Skyactiv-X, was in the works. Its goal? To combine the best of both gasoline and diesel performance into one clean, efficient package.
But perhaps lost in all the taiko drumming leading up to the 2017 Tokyo Motor Show was the legendary Mazda rotary engine. Whatever happened? Last we heard, there were rumors ranging from its return as an electric range extender to a secret new rotary-powered sports car. So we sat down with a couple of Mazda executives to ask about this important matter.
Continue reading below ↓
Recommended Videos
"Two years ago, we showed the RX-Vision at the 2015 Tokyo Motor Show. That is our rotary-powered car," Mazda research and development director Kiyoshi Fujiwara tells us. "We want to develop these kinds of models, but we still don't have enough money to invest in these kinds of products," he adds, saying the company is currently focused on other programs such as Skyactiv-X, vehicle electrification, and an all-new Mazda 3.
That makes sense. We are, after all, living in a time when every carmaker is joining the electric/hybrid-powered bandwagon. In line with this, Fujiwara also confirmed that a rotary-based range extender for Mazda's upcoming hybrid vehicle is in development, and we can expect to see it by 2019 or 2020.
The executive also says a next-gen rotary engine for sports cars is in the pipeline, though the company has yet to decide whether or not this will eventually be commercially available. So, there's a chance? Frankly, we'll take it over a flat 'no.'
Mazda's general manager for vehicle development, Hiroyuki Matsumoto, gave us even more reason to remain hopeful. He also confirmed that the second coming of the rotary engine is indeed in the works.
Perhaps the biggest indication that we haven't seen the last of the rotary is the company's passion for it. "Mazda engineers joined Mazda because they love the rotary engine. These engineers are working hard thinking they want to be the ones to make sure it's launched in the market," says Matsumoto.
"We are currently engaged in the development of the next-generation rotary engine," he adds, refraining from providing any further details. "I personally want to see it early myself, however the technology is still under development. And also, when we launch our next-generation rotary engine, it should be something very special."