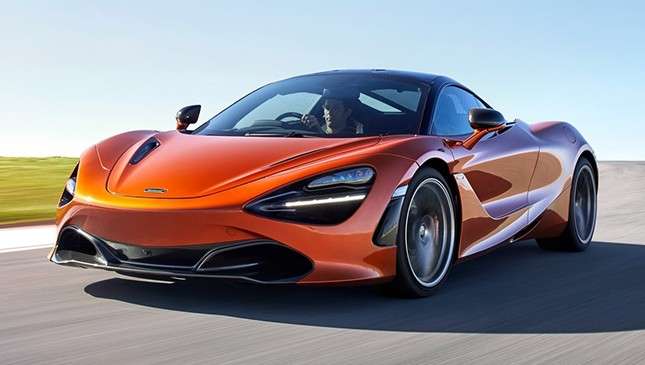 McLaren's latest creation has been unveiled. The company has introduced the new 720S at the 2017 Geneva International Motor Show, marking the arrival of the second-generation Super Series lineup—the UK-based brand's iconic supercar family. It's fast, it's light, and it is oh so pretty in orange. We're impressed.
First up, the fast bit. The supercar packs a twin-turbocharged 4.0-liter V8 engine capable of 720hp (thus the 720S name) and 770Nm. The mill is good enough for a 0-100kph time of just 2.8 seconds, and lets the 720S hit the 200kph mark in just 7.8 seconds. Maximum speed is a mighty 341kph. On to the light part then…
Continue reading below ↓
Recommended Videos
Playing an integral role in the vehicle's standout performance is its lightweight, high-strength carbon fiber chassis. This carbon fiber structure, combined with the supercar's range of aluminum alloys that make up part of the chassis and body panels, add up to a dry weight of about 1,283kg. Further emphasizing the car's speedy nature are aero components like "double-skin" dihedral doors which channel air to the radiators allowing for the absence of side intakes.
McLaren calls the new 720S "arguably its most distinctive and remarkable" car yet. We agree. The car is unmistakably McLaren, yet its curvaceous proportions and aero-packed design signify a new interpretation of the company's iconic look. To give you a better idea, the 720S makes the 650S seem rather tame in the image department. It's a "dedication to aerodynamic principles, personifying the brand's extreme performance DNA," the company says.
Inside, the vehicle's driver-focused cabin features hand-crafted leathers and machined aluminum for a sophisticated environment, as well as a flat bottom steering wheel with carbon fiber elements. The exterior colors make their way inside via orange stitching and accents, too. We've talked about the vehicle's innovative new innovation display before (basically, it folds), so we won't go too much into detail about that.
McLaren Automotive CEO Mike Flewitt says the 720S is a mix of performance, luxury and "unparalleled driver involvement." He says: "This is the first time we have replaced a product family and the new 720S is absolutely true to McLaren's pioneering spirit in being a revolutionary leap forward, both for our brand and the supercar segment."
What do you think of McLaren's latest supercar?