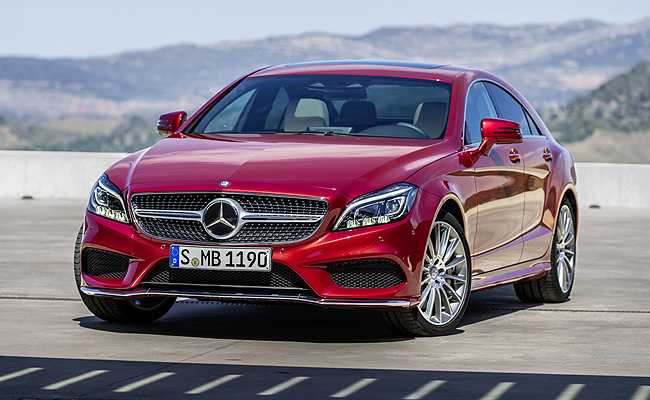 Mercedes-Benz has updated the CLS four-door coupe (or sedan, in other words) and shooting brake (or station wagon), giving both versions a new front section, upgraded interior, and a new multibeam LED headlight technology.
Up front, the CLS gets a new chrome-diamond radiator grille and a more dramatic front bumper with large air intakes, while the rear now sports darkened taillights.
Inside, an eight-inch screen defines the dashboard's contemporary looks, while the redesigned three-spoke sports steering wheel "underscores the interior's high quality both in visual and tactile terms." The CLS also gets an all-new nine-speed automatic slushbox replacing the previous seven-speed gearbox.
The CLS's latest party trick, however, is its multibeam LED headlight technology, "which starts a new chapter in lighting design."
According to Mercedes-Benz, high-resolution LED modules, each with 24 individually controlled high-performance LEDs, "automatically illuminate the road with a hitherto unsurpassed, precision-controlled distribution of exceptionally bright light" without dazzling oncoming vehicles. This is supposedly possible through a camera positioned behind the windscreen. In addition, the camera-based active light functions on bends.
"With the CLS Coupe and the CLS Shooting Brake, we have built design icons that also set the pulse racing faster in their latest incarnation courtesy of their enthralling lines," said Daimler AG board member for Mercedes-Benz car development Thomas Weber. "With new high-tech ingredients such as the innovative multibeam LED headlamps, the nine-speed automatic transmission and the progressive multimedia system, both models also define new cutting-edge technology."
Continue reading below ↓
Recommended Videos