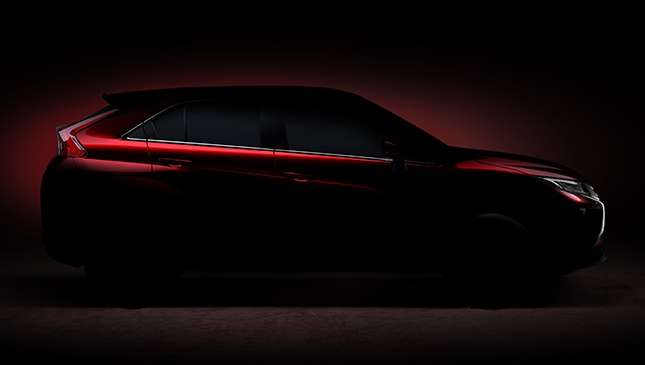 It's beginning to look like crossovers are the in thing at this year's Geneva International Motor Show. First, it was Subaru teasing us with the all-new XV. Now, Mitsubishi has announced it will be fielding its own challenger at the event: a completely new compact SUV model.
The Japanese carmaker has yet to reveal the vehicle's name. But if you've been following the online automotive rumor mill, chances are you're very excited. Buzz surrounding the upcoming car indicate it will carry the Eclipse nameplate. Yes, the Eclipse will become a crossover—well, at least if rumors hold true.
Continue reading below ↓
Recommended Videos
Exciting stuff, but for now let's stick to what we know for sure. Mitsubishi says the compact SUV will be added to the company's crossover lineup along with the ASX, the Outlander and the Outlander PHEV. The lone image released with the announcement show the vehicle in red, draped in shadows. Here we see sleek, swept-back headlights, long taillights which push up toward the overhanging roof out back, and a very sporty silhouette. It's a sharp first impression, one which the company likens to a "coupe SUV" shape which conveys the image of a "stocky track athlete".
Frankly, we like it. But the question remains: is this, or is this not the new Eclipse? Reactions to a potential Eclipse crossover have ranged from ecstatic to downright pissed, with some saying the move is akin to sacrilege. While all this hoopla is still premature, we do sort of get the sentiment.
The last Eclipse to come out of a factory was way back in 2011, capping off a more than 20-year run which saw over 900,000 of them produced. Does the moniker's return in the form of a crossover sound good to you?