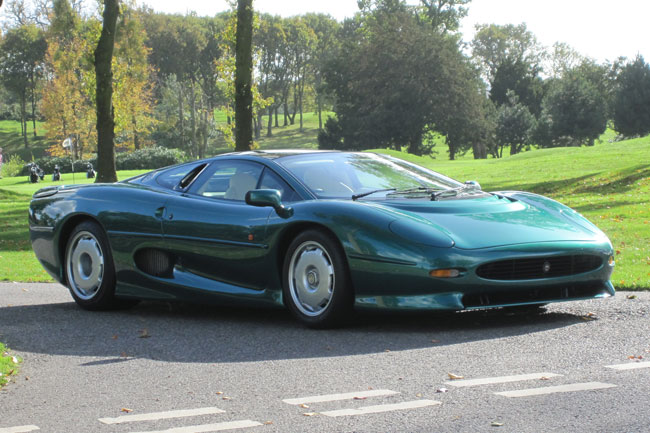 The Jaguar XJ220 has an interesting place in automotive supercar history. Its concept-car study was a massive success, garnering enough interest for its parent company to green-light it for production.
But along the way, the XJ220's macho V12 became a turbocharged V6, turning off many prospective buyers despite the 540hp it generated. And while it held the title of the world's fastest production car until the McLaren F1 came along, its 213mph (343kph) top speed fell short of the 220mph (352kph) promised by its name.
Nevertheless, it's a beautiful supercar, and its performance figures--including a sprint from zero to 100kph in 3.6 seconds--are still astounding even by today's standards. With only 281 units built, the odds of seeing one on the road are extremely slim. It would certainly make a fine addition to any collector's climate-controlled garage.
On November 15, one example will be auctioned off in the Silverstone Auctions sale at the Lancaster Insurance Classic Motor Show. This 1994 example has less than 6,000 miles (9,656km) on its odometer. Its first owner was the Brunei royal family, with whom it only traveled 2,272km in eight years. This is a unique occasion, because as far as we know, the Brunei royals rarely sell their cars.
Continue reading below ↓
Recommended Videos
UK Ministry of Transport certificates since 2002 support this Jaguar's sound mechanical status. And it has recently had work done by the UK's leading authority on XJ220s, Don Law Racing of Staffordshire.
The Jag is estimated to trade hands for about £200,000 (P14.27 million) to £220,000 (P15.7 million). By classic supercar standards, that's not bad at all.