Gerry McGovern, Land Rover's chief creative officer, introduces the new Evoque punchily: "The acid test is this. Does the new car make the old car look old? Not different, but old."
He's right that it isn't conceptually different: the bloodline from 2008 LRX concept to 2011 first-gen Evoque to this new one could hardly be clearer. But given that the old one served Land Rover mightily well, is it a noble aim to make it look like yesterday's chip-paper? Isn't that an insult to his own back catalog, and a slight on the existing owners?
McGovern seldom displays the symptoms of low self-esteem, but his reply to my question is uncharacteristically hesitant: "I guess… I could have phrased that differently." Then he's back on track. "I might be wrong, but I don't think I've ever designed a car that didn't sell." He's perhaps forgetting I've known him since he unveiled the MGF, although to be fair, he also did the riotously successful MkI Freelander around the same time.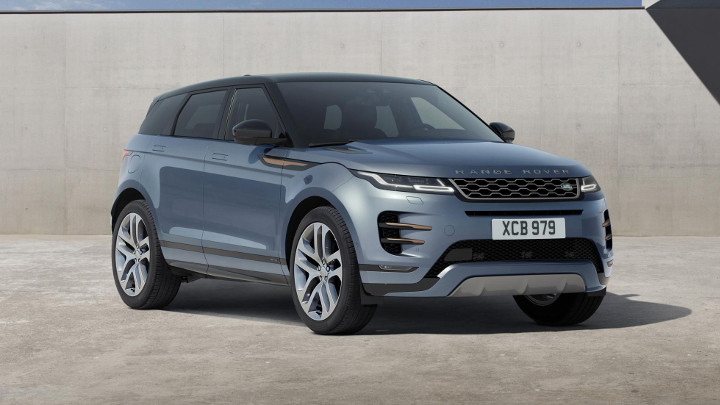 Continue reading below ↓
Recommended Videos
Anyway, as it stands before us, the new Evoque is a superb reimagination of the original. More than just an Evoque tribute band, it is genuinely progressive. But, at the same time, it reminds you how good the first one was.
Under the evolved design, the rest of it is almost entirely fresh. It's not just a rework of the old one, which spread its seed into the Discovery Sport and the Jaguar E-Pace. The entire thing is new, as in new.
Some step-change technologies have been wrapped in. What will get the most ooohs and aaahs are the front and rear cameras. Looking forward, it's 'Clear Sight Ground View'—the central touchscreen can display a perspective-enhanced image from grille and door-mirror cameras. It's like the hood and the engine were transparent. Handy in car parks as well as off road. 'Clear Sight Rear View' is a 1.7-megapixel display filling the rearview mirror. It's semi-silvered so can work as a regular item, too, but switch it on and your rear passengers, headrests, and piled-high luggage magically disappear. The camera lenses are dirt- and water-repellent, by the way.
It's not just screens for outward vision. From midlevel trim and up, the Evoque has adopted the three-screen dash of the Range Rovers above it—except it finally bows to the inevitable by adding Apple CarPlay and Android Auto.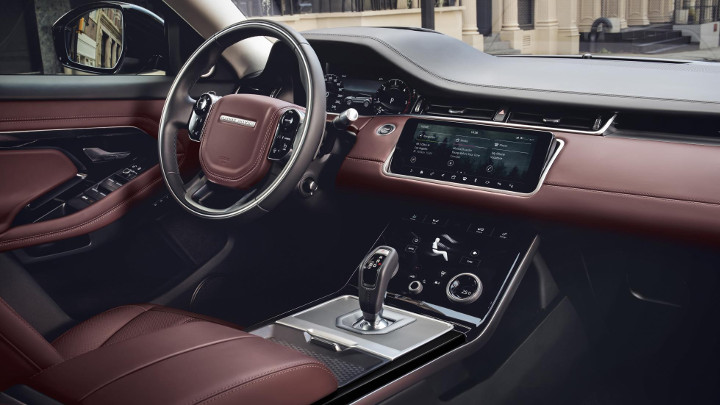 The other major technical leap is a play for fuel savings. All auto-transmission versions—which is all bar the base-power FWD diesel—have mild-hybrid propulsion, thanks to a 48V starter-alternator. It also adds 102Nm of electric low-rev torque-fill for when the turbo is lagging. The battery is under the driver's seat, so foot room and ground clearance don't suffer. Evoque chief engineer Pete Simkin says it saves around 6% in fuel. There's more: Aero drag is down by 14%, so the overall effect is "a step-change in consumption," claims Simkin. But you can't compare by looking at the specs, because the official test has just changed.
Engines at launch are diesel in 150hp FWD, and 180hp and 240hp AWD; gasoline mills for AWD come with 200hp, 250hp, or 300hp. All are 2.0-liter units. After a year, a full plug-in hybrid version launches, using a 1.5-liter three-cylinder engine from the same Ingenium family. Expect about a 48km electric-only range.
Simkin wanted good driving as well as big steps in refinement. A whole different engine-mount position and design helps there. The rear suspension uses significant parts from the Velar, though it's sprung on coils. At the front, it's a new generation of lightweight strut. Adaptive damping is on the menu. The optional rear active-clutch differential unit is the same principle as before, but a new, lighter, faster unit. The basic AWD versions just get torque vectoring by braking.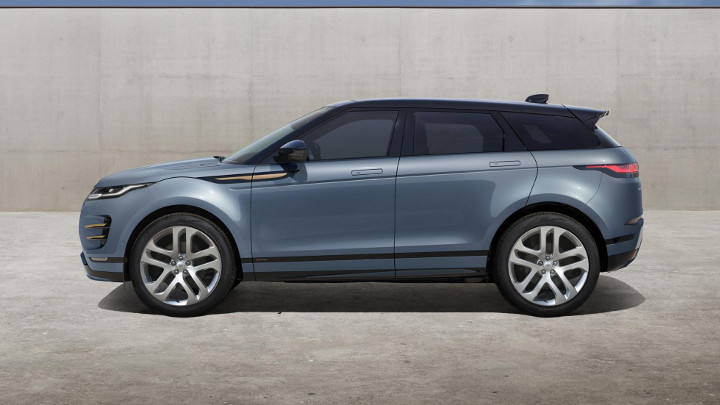 Somewhat against the grain, the new one is actually heavier than the old. Why not use an aluminum chassis? Range Rover is good at those. Simkin points out that aluminum demands thick structural sections. The compulsion here was to keep the Evoque compact. Never mind off-roading, it's mostly used as an urban car. So it uses super-high-strength steels instead, granting shorter crash-defense overhangs. Sure enough, it's shorter than the old one.
But it has a longer wheelbase so rear room is better. The trunk is bigger, the fuel and urea tanks are 20% larger, and the wheel arches can accommodate 21-inchers. And to prove this is still a Range Rover, the wading depth has risen to 600mm. Stand up and put your hand on your leg 600mm from the ground. That's deep. All-surface progress control and automatic terrain response boost the off-road cred.
Inside, modern urban luxe overwhelmingly trumps backwoods utility. New quilted leather options are plush as you like. But sustainability is high on the agenda too, so it offers plush wool and also non-animal choices, mixed with recycled materials, and cloths from plants that demand low irrigation. An R Dynamic trim pack brings bronzey flourishes inside and out. The doors are bigger to make getting in easier. There is no three-door version this time, and no convertible, either. Those bodystyles proved that the SUV craze does actually have limits.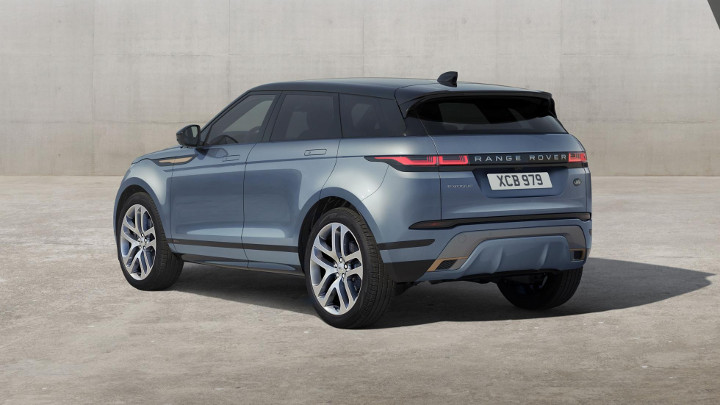 The old Evoque was, all-in, a tearaway success, selling more than three-quarters of a million worldwide and barely tailing off, even in its final year. As McGovern says, "The customers are design-literate." In other words, they can easily read the subtle changes that have been wrought here. He says the decision to pursue that design direction, rather than a radical swerve, was taken at a meeting that was both very small and very brief: "It had to be unmistakably an Evoque but unmistakably a new Evoque."
The designers took familiar themes and riffed on them: "The falling roof, the rising waistline, the clamshell bonnet, and a rear window you won't see a bloody thing out of." Clear Sight Rear View to the rescue. But always, they were polishing: "We advanced with surface development, semi-flush glazing, flush door handles, and technical detailing in the lamps. It maintains the cheekiness, but is more sophisticated inside, outside, and underneath."
We've just time for one more challenge to the idea of evolution above revolution. McGovern cites the Porsche 911. In return, I mention a couple of occasions JLR has tried it. The MkII Discovery and the first aluminum Jaguar XJ both changed a lot technically, but not much in design from their predecessors, because the customers said they wanted it that way. But after too few years, they started to look old hat.
Not this time, he says: "We didn't do this because the customers told me not to change. It's my design direction. I'm not an advocate that everything must be different. That's an old-fashioned, superficial approach. Everything we do here has intellectual creative thought behind it."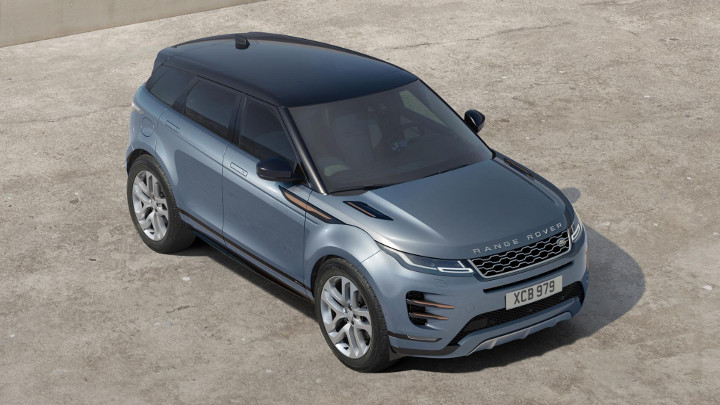 NOTE: This article first appeared on TopGear.com. Minor edits have been made.