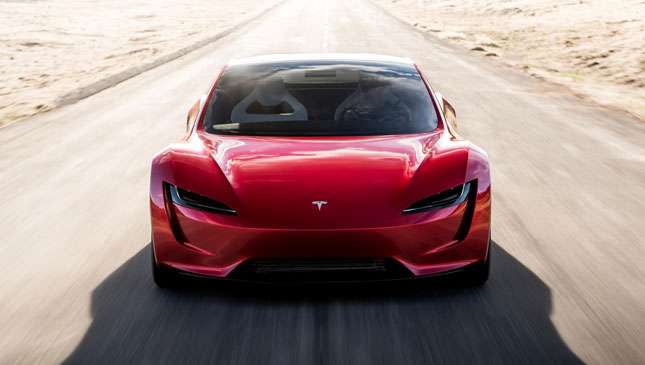 Tesla demonstrated the mic-drop of the year last week, when the unveiling of its truck was upstaged by the thing it was carrying. That thing was a new-age Tesla Roadster that out-accelerates a Bugatti Chiron—and any other road car you'd care to name – from 0-97kph.
It hits 97kph in a frankly baffling 1.9secs, which is more than enough to scramble anyone's brain. Or lunch. But Elon Musk, ever the Twitter tease, has said it'll go faster yet.
"Should clarify that this is the base model performance," said Musk of a car that does the quarter mile in 8.8secs on its way to a 402kph top speed. "There will be a special option package that takes it to the next level."
Continue reading below ↓
Recommended Videos
Tesla is famed for its over-the-air updates that unlock extra performance, so it seems work has already been done on making the Roadster quicker. Yikes.
Musk, somewhat inevitably, didn't stop there. Several hours later he tweeted: "Not saying the next-gen Roadster special upgrade package *will* definitely enable it to fly short hops, but maybe…"
Um, what? "Certainly possible. Just a question of safety. Rocket tech applied to a car opens up revolutionary possibilities."
A flying car? A rocket-propelled car? Both? Should we be excited, or is this all an elaborate 'look over there' distraction from reported Model 3 production delays?
NOTE: This article first appeared on TopGear.com. Minor edits have been made.