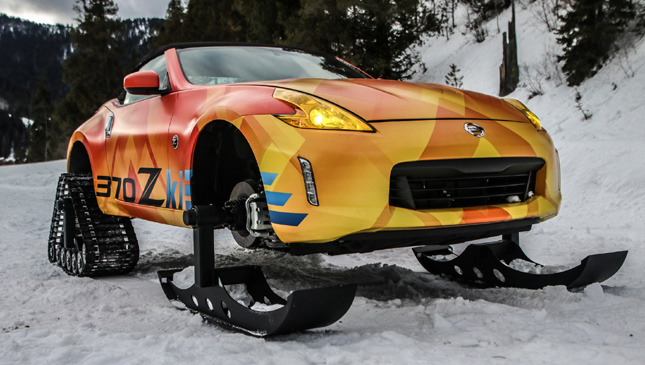 Yes, we know it doesn't snow here in the Philippines. But that doesn't make what Nissan's done to its cars here any less awesome. The two vehicles you see before you are the extreme, 'winterized' versions of the 370Z roadster and the Armada SUV, dubbed the 370Zki and Armada Snow Patrol, respectively.
The 370Zki's moniker is derived from 370Z and 'ski.' While Nissan didn't provide an explanation for the Snow Patrol's name outside of the obvious, we like to think it's in reference to the Irish-Scottish rock band responsible for the 2006 alternative smash hit "Chasing Cars" rather than, well, just snow. It's more interesting that way.
Continue reading below ↓
Recommended Videos
Kidding aside, both vehicles are set to make their world debuts at the upcoming 2018 Chicago Auto Show, and they're expected by Nissan to "bring winter a whole new meaning." If that 'meaning' is to provide us with some over-the-top driving fun in the cold, it looks like they might have succeeded.
The 370Zki is a 332hp Japanese roadster running on snow tracks at the rear and a pair of skis up front instead of a normal drivetrain. One of the biggest issues in its development was its height, but the carmaker solved this via a custom lift kit, custom mountings for the rear suspension, and modified wheel wells.
The Snow Patrol, meanwhile, gets "more aggressive" wheels, a suspension lift kit, a grille protector, an LED light bar, running boards for deflecting debris, and a one-piece Defender roof rack for extra cargo capacity.
Other than the abovementioned modifications and a few other bits, both are essentially the same cars. But we're particularly interested in what Nissan's done with the 370Z. That extra height sure could come in handy here in Manila. The skis and snow tracks, on the other hand? Probably not as much. If only it snowed around here.
Again, you can catch both of these cars at the 2018 Chicago Auto Show.