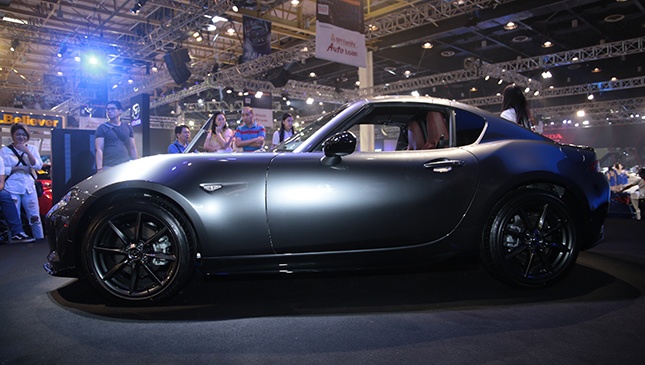 Unless you've been living under a rock the past few days, by now you know that the Mazda MX-5 RF has been launched in the Philippines. A year's worth of hype has all led to this, and finally being able to see the fastback operate its hardtop was really something.
We've already revealed the prices and specs, so all that's left to do is give you guys a better idea of what's new—or what's different, rather. Of course, you've got the self-operating roof at the center of this vehicle, which can be folded down in 13 seconds at below 10kph. You'll also see new interior colors (it'll be available in both black and nappa leather), as well as that sick new Machine Gray paint finish.
Continue reading below ↓
Recommended Videos
Of course, looks only play second fiddle to what's at the core of the RF. Mazda claims to have given this iteration of the Miata a quieter ride and improved driving dynamics. But we'll have to actually get behind the wheel to find out. For now, soak your eyes in the images of the vehicle's launch at the ongoing 2017 Manila International Auto Show.