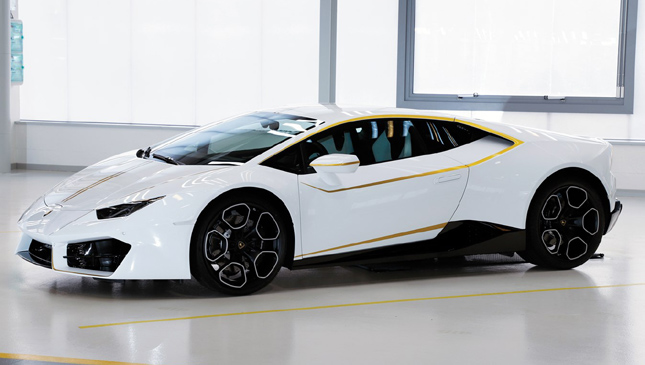 Remember that Lamborghini Huracan with the current Pope's signature on it? Chances are you came across photos of it circulating on social media last year. At the time, word was it was going up for auction via RM Sotheby's, and now we have some idea of how much it will go for.
Ready? The heavenly white Italian supercar is expected to rake in a whopping €250,000 to €350,000 (P15 million to P22 million) under the hammer. In contrast, the Huracan costs about €160,000 (P10 million) minus the Pope's signature. It's interesting to note, though, that the auction price is just about what a Huracan retails for in our market.
Continue reading below ↓
Recommended Videos
Aside from the usual 571hp and 540Nm V10 engine, you're looking at Vatican-inspired detailing and racing stripes, 20-inch diamond-finished wheels, leather seats featuring Lamborghini crests, and of course, that blessed signature on the hood of your new ride.
You'll also be helping a ton of the less fortunate with your purchase: 70% of the proceeds will go toward the war-torn city of Nineveh in Iraq, and the rest to a handful of other charitable organizations chosen by Pope Francis. "Benefitting a quartet of deserving charities all near and dear to Pope Francis' heart, the sale of this Huracan represents a unique opportunity to acquire a wholly unique Lamborghini while giving back to worthy causes in the name of His Holiness."
That's a lot of money. Now imagine how much more it'd be worth had the Pope actually blessed the thing. Y'know, like how he did with that Formula E race car earlier this month.