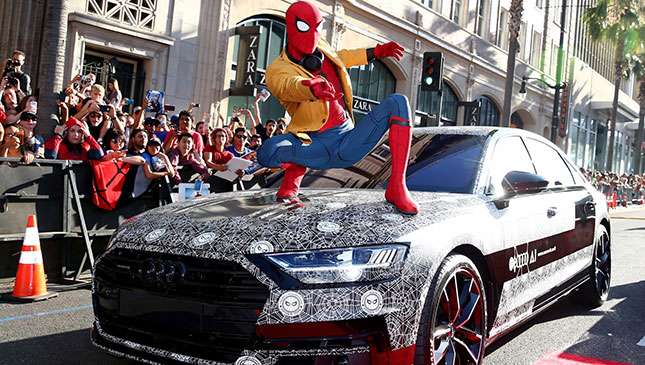 Audi will reveal its all-new A8 on July 11, which is only next month. If you're eager to see it before then, we have some good news: the new high-tech limo will feature in Spider-Man: Homecoming, out on July 6 in our market.
Hence the picture above of Spidey himself sat atop the camo'd A8. And it's not just any old camouflage. Audi Design developed an entirely new foil with a Spidey design—the swirls you normally see on pre-prod cars have been tweaked to feature spider webs on the doors and the Audi rings. Get it?
We're told that viewers of Homecoming will be able to see parts of the car—the front and side—as well as its 'Traffic Jam Pilot' in action. We literally can't wait to see that latter scene in all its hands-free glory.
We have but a few full details of the new A8. We know that it features fully active electromechanical suspension, driving each wheel individually thanks to wheel-mounted electric motors. There's a front-mounted camera, that detects horribleness in the road surface early on, and adjusts the suspension accordingly (like Mercedes' 'magic body control' featured on the S-Class) to keep you comfortable.
Audi reckons this new set-up allows for tighter cornering, braking and accelerating, allowing the driver to go along "dynamically while keeping the vehicle under control," or indeed "work undisturbed in the rear." There's also all-wheel steering—defined as having a 'sporty characteristic'—and a steering feel that promises everything from comfort through to "intense feedback." Read into that what you will.
Elsewhere on the new Audi A8, we're told that from the start of its life, it will feature an electrified powertrain. Which means the new Audi A8 will be a hybrid, thanks to a 48-volt electrical system and lithium-ion battery in the trunk. It allows electric coasting at between 55kph and 160kph, too.
In fact, that new front camera we mentioned also helps the powertrain, deciding whether the A8 is in coasting or recuperation mode.
We'll have lots more info for you on the new Audi A8 on July 11, 2017. Until then, enjoy this image of Spidey sat on top of one (honestly, has the kid no respect for hood integrity?), and let us know whether you think the Mercedes-Benz S-Class should be worried…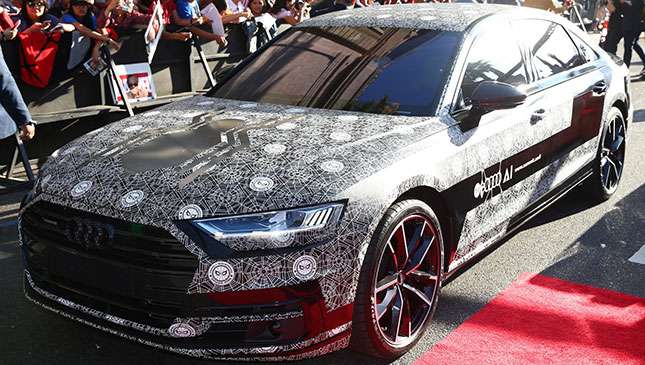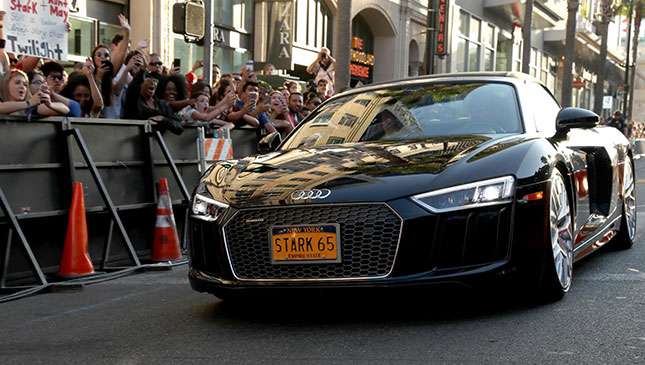 NOTE: This article first appeared on TopGear.com. Minor edits have been made.