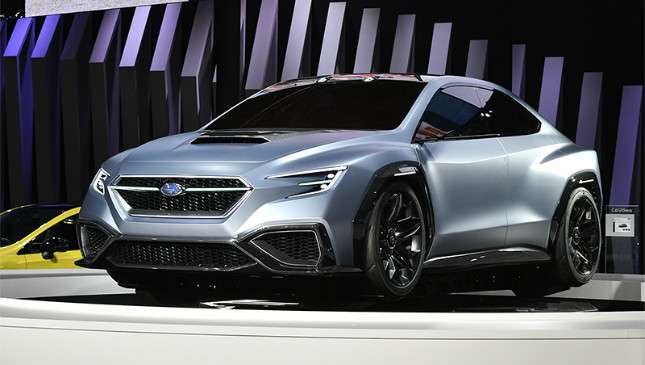 If you're wondering what the Subaru WRXs of the future will look like, then these photos will give you a clearer picture. Subaru has just revealed this, the VIZIV Performance Concept, at this year's Tokyo Motor Show. The name is an amalgamation of the term "Vision for Innovation."
The five-door sedan measures 4,630mm long, 1,950mm wide, and 1,430mm tall, so roughly the same height but slightly shorter and narrower than the current Subaru Impreza. The exterior design is based on the Japanese carmaker's "Dynamic x Solid" design philosophy and draws on cues from the Legacy, Impreza, and WRX. The overall look is sharp lines galore, highlighted by a low center of gravity, muscular carbon fiber fenders, plus more carbon in the roof and bumpers. Underneath are 20in tires.
Continue reading below ↓
Recommended Videos
While performance figures haven't been revealed, Scooby fans can rest easy knowing it comes with a boxer engine and all-wheel drive. Subaru will also add enhanced driver-assist technologies (radar, GPS, navigation) that it is currently developing. Expect all of this to come to fruition by 2020. Like it? Or is it too Tron-esque for your tastes? Let us know in the comments.