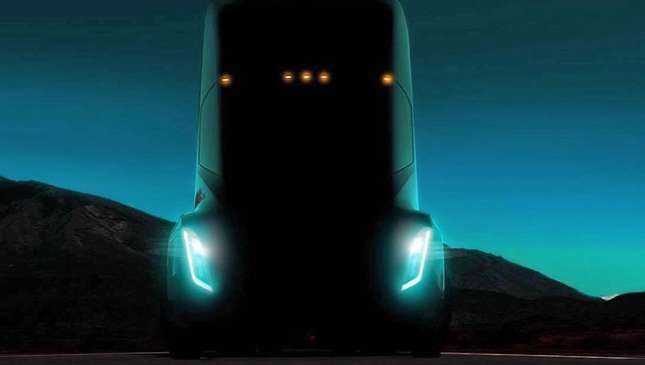 Forget glamorous sedans and SUVs--it's time to go hard or go home. The aptly dubbed Tesla Semi comes as part of 'Master Plan Part Deux'--the business model released in July 2016, 10 years after the original company plan--and promises another decade of game-changing products from the all-electric brand.
As anticipation heats up, what do we know about the Semi so far?
The official unveil will be on October 26… maybe.
Elon Musk announced the Tesla Semi was "tentatively scheduled" for unveil in late October at the SpaceX facility in Hawthorne, California. Musk also added it was "worth seeing this beast in person. It's unreal." The reveal has already been pushed back from September, though.
It's only a semi.
The upcoming unveiling will be for an all-electric semi-truck. It's unconfirmed if the Tesla Semi will be its final production name, although Musk hinted at this in a tweet back in April: "Tesla Semi truck unveil set for September. Team has done an amazing job. Seriously next level," he said.
There's already a working prototype.
Musk confirmed at Tesla's 2017 Annual Shareholder Meeting that the Semi will be a functional prototype that has already been the talk of the town with potential customers.
"We have shown it to a number of people who buy heavy duty trucking and they all love it. They just want to know how many can they buy and how soon," said Musk.
Continue reading below ↓
Recommended Videos
He added that clients have also been involved in the design process: "The biggest customers of the heavy-duty Tesla Semi are helping ensure that it is specified to their needs. It's not a mystery. They already know that it is going to work because they've told us what those needs are." Full production capacity is to be expected within 18 to 24 months.
It won't overhaul the haulage game…
It's reported that the Semi will have a range of 320-480km on a single charge. That easily rules it out of most trans-America expeditions, where diesel alternatives can cover 1,000 miles on a single tank, so instead of a long-haul trucker, it will likely focus on regional trips, making up 30% of all trucking jobs in the States. That's still a pretty big piece of a portage pie, though, especially on a plug-in basis.
After a meeting with Tesla, executive Scott Perry from Miami-based fleet operator Ryder System Inc. told Reuters that the semi will also be a day cab, meaning it won't have a sleeper berth.
…but it is heavy duty.
Speaking to TED organizer Chris Anderson in April, Musk prophesized how the electric truck would overtake the rest of the segment. "It is a heavy-duty, long range semi-truck, so it has the highest weight capability for the range. Essentially it's meant to alleviate the heavy-duty trucking loads. This is something that people do not, today, think is possible.
"They think the truck doesn't have enough power, or it doesn't have enough range. With the Tesla semi, we want to show that no, an electric truck actually can out-torque any diesel semi, and if you had a tug-of-war competition, our truck will tug the diesel semi uphill."
It could be "the biggest catalyst in trucking for decades."
Analyst Adam Jonas from New York financial giant Morgan Stanley has been keeping a close eye on the all-electric truck. In a note released to clients at the start of September, Jonas wrote that: "We believe Tesla's reveal of its autonomous, electric Class 8 semi-truck could be the biggest catalyst in trucking in decades and potentially set off separation between the technology leaders and the laggards among carriers, shippers, truck OEMs and suppliers."
He speculates that an autonomous-electric truck could be up to 70% cheaper to run than a diesel equivalent, too, which would indeed suggest the serious change to the future of the haulage industry predicted.
But it's not the first.
As Tesla delays the plans for its truck, a German rival has already been unveiled in production-ready guise. European auto giant Daimler, which owns Mercedes-Benz and Smart brands, has unveiled the Fuso eCanter electric truck, with first examples being delivered this year across Europe, Japan, and the US. The first client for the eCanter will be UPS, adding to the New York fleet to help reduce emissions and noise pollution.
It won't be sold with batteries…
Further analysis from Morgan Stanley shows that Tesla will adopt a battery leasing model for the Semi, meaning batteries could be swapped at stations in order to get drivers back on the road quicker.
"We believe Tesla could sell its autonomous, electric semis without batteries, which would then be separately leased to customers," analysts Adam Jonas and Ravi Shanker commented.
They've estimated that Tesla could charge as much as $0.45 per mile and still save drivers up to 50% in fuel costs, as well as reduced maintenance due to the lack of an engine. The Semi is thought to cost around $100,000 (P5 million), without the battery leasing.
…nor autonomy, to begin with.
It's unlikely that the first generation Semi will be a fully autonomous truck, both because that would be a monumental task and also terrifying for anyone on the road.
When Musk first announced the Tesla Semi programme, he added that the truck will "deliver a substantial reduction in the cost of cargo transport, while increasing safety and making it really fun to operate," suggesting a driver will still be a necessity.
There's also a pickup on the horizon.
Another part of Master Plan Part Deux includes a pickup truck, confirmed again via the medium of Twitter. Replying to a pickup fan, Musk confirmed that it would make an appearance "within 18 to 24 months." He also hinted at a 'light-duty' model, responding to another fan with suggestions of "a mini version of the Tesla Semi."
And that's not all, folks.
Ever the temptress, Musk concluded his Annual Shareholder Meeting in June by saying: "I really recommend showing up for the Semi truck unveiling--maybe there's a little more than what we are saying here." Could there be more secrets to announce? Or will Musk just be sporting a particularly fetching tie? Only time will tell…
NOTE: This article first appeared on TopGear.com. Minor edits have been made.