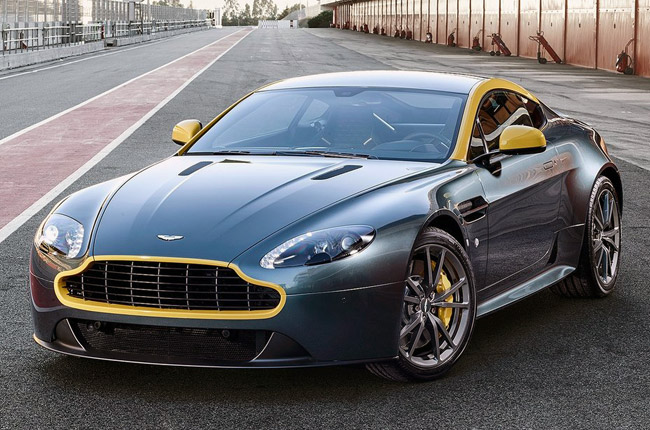 This is the Aston Martin V8 Vantage N430. It is one beautifully wrapped car. An eye candy, if you will. It is called "N430" because it has been developed at the famed Nurburgring track, and its 4.7-liter all-alloy quad-cam V8 engine churns out 430hp. Combine this muscle with brilliant weight-saving materials--carbon fiber and Kevlar, for instance--and you have one fast car capable of going past 300kph.
The engine is mated to a six-speed stick shift, but there's an option for a close-ratio seven-speed Sportshift II "automated manual transmission."
"The N430 is all about bringing track-honed excitement to the road in an accessible, emotionally engaging and authentically analog way," said Aston Martin product development director Ian Minards. "The dynamic exhilaration of the Vantage is the perfect complement to the eye-catching looks of the N430."
The forged alloy wheels are graphite-painted, perfectly blending with the black front grille, headlamp bezels, exterior meshes, side window surrounds and textured tailpipe finishers. The eye-catching livery is said to have been inspired by the CC100 Speedster concept.
Inside, the N430 stands out with machined carbon sill plaques, N430 seat logos, black magnesium paddle-shifts, contemporary driver instrument panel, black anodized rotaries, and leather steering wheel, among others.
Nice car. Really nice-looking car. The only question left to be asked is this: Is Aston Martin arriving on Philippine shores anytime soon? Our gut feel tells us the answer is yes.
Continue reading below ↓
Recommended Videos