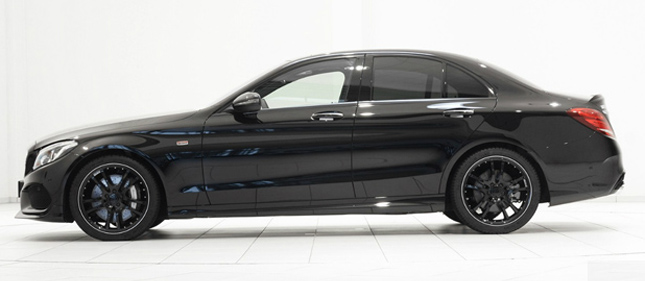 Tuning a car can be a tricky thing. As much as many gearheads want to squeeze the most from their engines, they have to keep in mind that too much abuse can easily shorten a powerplant's life. Then there's the warranty to think about as many aftermarket jobs might void your factory protection. Merc fans, luckily, can always turn to Brabus for their tuning needs and concerns.
The modification company that specializes in bringing out the untapped potential of an otherwise ordinary Mercedes-Benz (if ever there was one) offers a slew of upgrades for the three-pointed star and its cool stable of steeds. And their latest creation is the C450 4Matic.
At the heart of the beastly power boost is the Brabus B30-410 performance chip that plugs right into the electronic control unit of the C450's 3.0-liter twin-turbo V6. This revises engine mapping and increases boost pressure, resulting in an extra 43hp and 50Nm. This extra power increases the output to 410hp at 6,100rpm and the torque to 570Nm at 3,700rpm. All that juice is coursed to all four wheels via the seven-speed automatic gearbox. This allows the car to sprint from rest to the century mark in a mere 4.6 seconds, while top speed has been upped to 280kph from the usual 250kph.
Continue reading below ↓
Recommended Videos
To complement the added power, Brabus threw in a quad exhaust system with a set of butterfly valves that can be opened and shut conveniently from the comfort of the driver seat. Now, one can choose to relax using the Coming Home mode. But when playtime comes, simply open the taps to bring forth a mean-sounding machine.
The Brabus C450 4Matic is appropriately fitted with a handsome and purposeful bodykit. The aerodynamic bits aren't just for show either--they also help the vehicle slice through the air with the greatest of ease.
If all this sounds tempting, you might want to indulge yourself as Brabus is offering a three-year warranty to back up its tuning job. This means worry-free racing driving. The only thing you need to be concerned about is finding the perfect stretch of road to abuse.