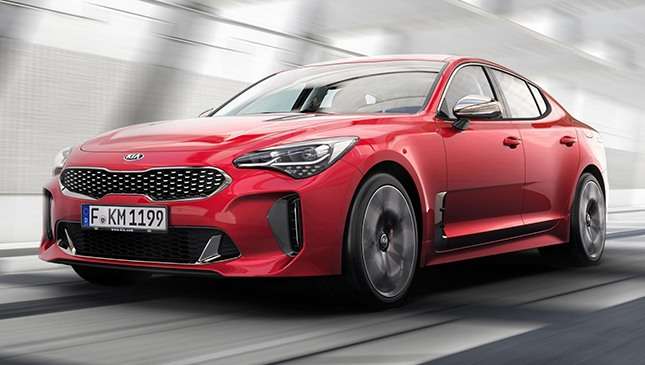 After five years of concepts, teasers and furious behind-the-scenes development, it's finally here—a rear-wheel-drive performance sedan. By Kia. Yep, color us a bright shade of surprised as well. Called the Stinger—and not to be confused with the two-door Stinger concept—Kia's performance sedan is coming.
With a turbocharged 2.0-liter four in the base model and a twin-turbo V6 in the top spec Stinger GT, the Stinger will be available with either rear or all-wheel-drive in the United States, but it's unknown if that choice will be extended to the other markets.
Let's be honest, though—the one we're really interested in is the rear-drive, twin-turbo V6, with Brembo four-piston calipers up front, multi-link suspension in the rear, and a 720-watt Harman/Kardon stereo in the middle.
According to Kia, it's the "highest-performance production vehicle in the company's history," which is a pretty enticing concept, as is its 3.3-liter twin-turbo V6, with 365hp and 510Nm. More enticing is a zero to 100kph figure of 5.1 seconds and a top speed of 269kph. All from a four-door Kia.
The 'sensible' version, if that sort of thing appeals to you, will likely make very close to 255bp and 352Nm (Kia hasn't screwed down the exact figure), so it won't be a slouch. Both versions will channel the power through an eight-speed automatic, with no mention of a manual. Boo.
Continue reading below ↓
Recommended Videos
The all-wheel-drive system is, thankfully, rear-biased, with torque vectoring to keep things entertaining in the bends, and the rear-drive versions come with proper, mechanical limited-slip differentials.
Size-wise, the Stinger is longer and wider than roughly everything else in the small executive sedan class. It also has a longer wheelbase than the Audi A4, the Lexus GS and the Mercedes CLS, so it could even be cross-shopped with the likes of E-Classes. Maybe.
The chassis is made with 55% high-strength steel, which helps to keep the rigidity up and the weight down. Kia also says it helps to keep the cabin quiet, but we'll have to ask an acoustic engineer why exactly that is.
A light, stiff car with independent suspension should make for an agile handler, and it doesn't seem to be over-tired, either (yes, that's a phrase), with 225-wide tires all around on the 2.0, and 225-front 255-rear on the V6. So it should be a pretty delicate handler, unless the electric power steering saps all the feel. We'll wait until we have a drive to answer that particular question definitively.
According to Kia's top European designer, Gregory Guillaume, the Stinger's "not about outright power, hard-edged dynamics at the expense of luxury and comfort," so don't expect a full-tilt competitor for AMGs and RS Audis. It's all in the GT style of things (even though it's no longer called the GT)—the old triumvirate of space, grace and pace.
The avant-garde styling of the GT concept has, predictably, moved to something more conservative, saleable, and able to be reproduced in a factory. So, wave goodbye to those glorious suicide doors and 30-inch wheels. But it must be said that the original lines are still there, including the Kamm-style rear end. We think the road-going Stinger looks ace, especially from the back. And it's called the Stinger. Like the missile.
Inside, Kia says the cabin is low slung and covered in Nappa leather, which is a good start. There's also Mercedes-style, air-filled active bolsters in the seats, and a screen that'll read out G-force, lap times and engine oil temperatures, which feels decidedly un-Kia, but we're not complaining.
But the big question is this: are you ready to accept a fast, luxury, four-door sedan with a Kia badge on the front?
If you're viewing this on a mobile device and can't see the video, please click here.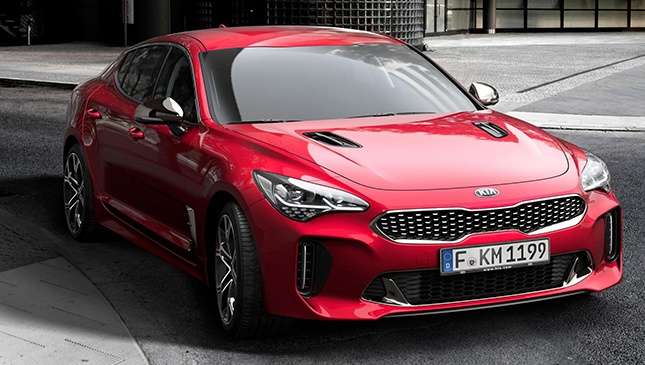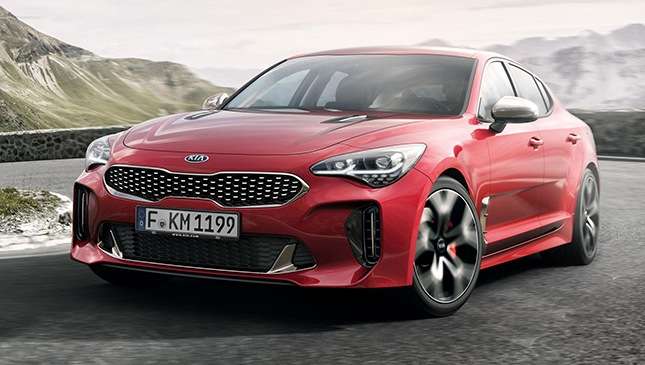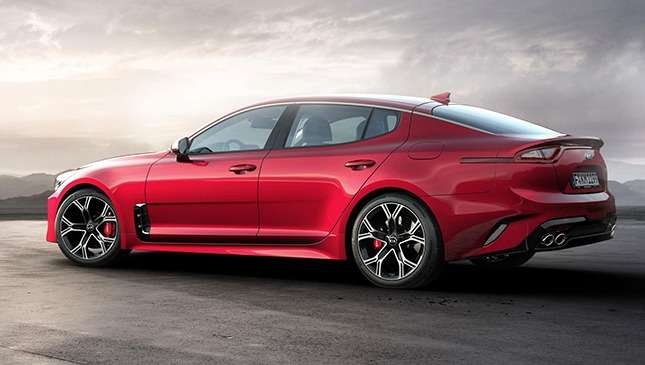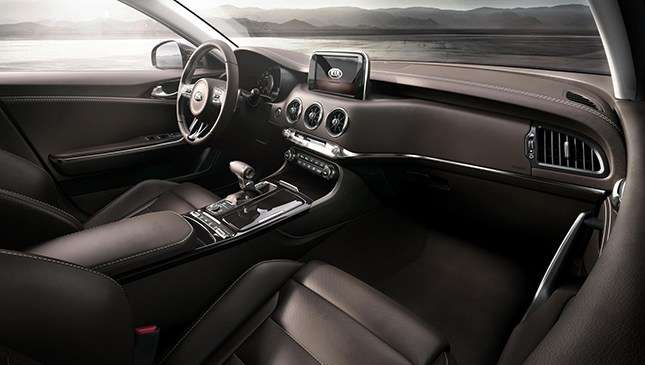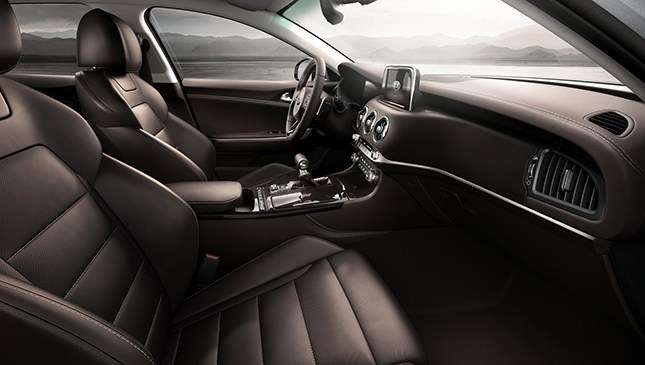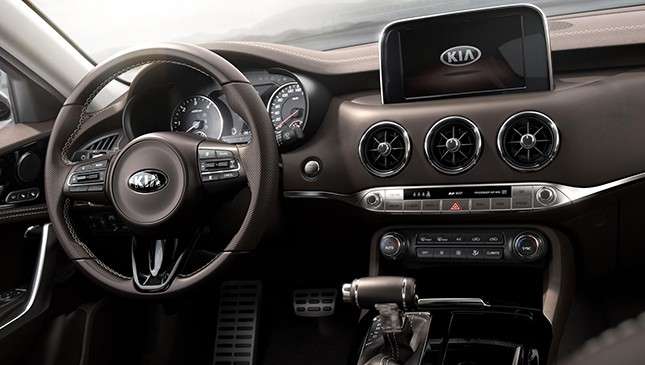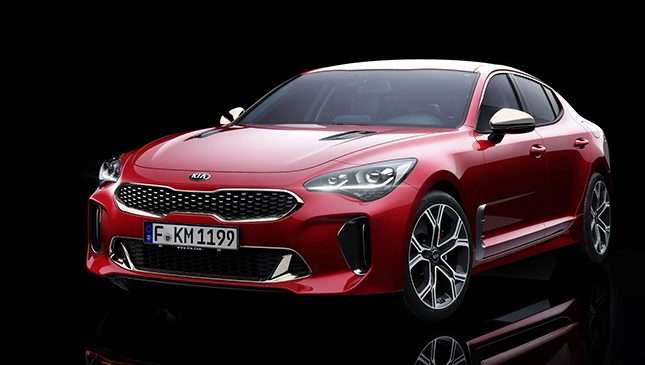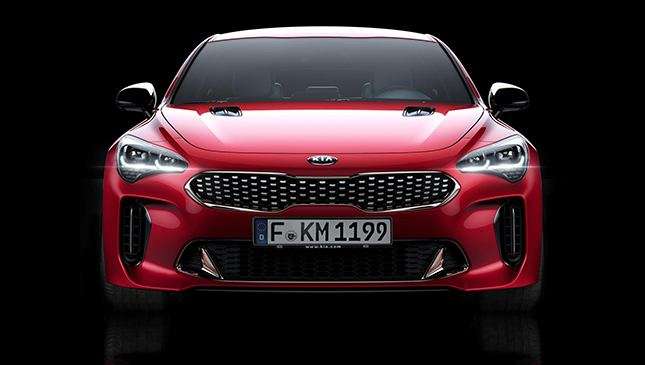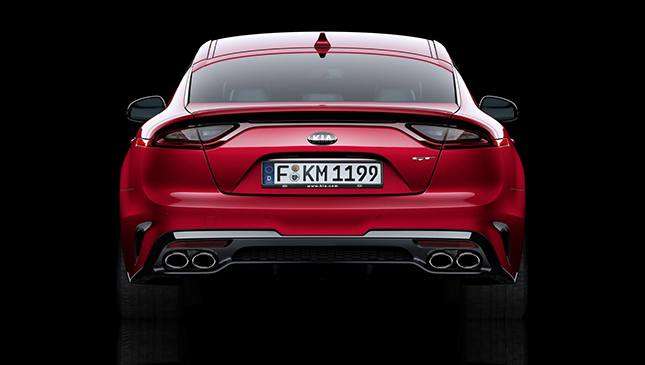 NOTE: This article first appeared on TopGear.com. Minor edits have been made.