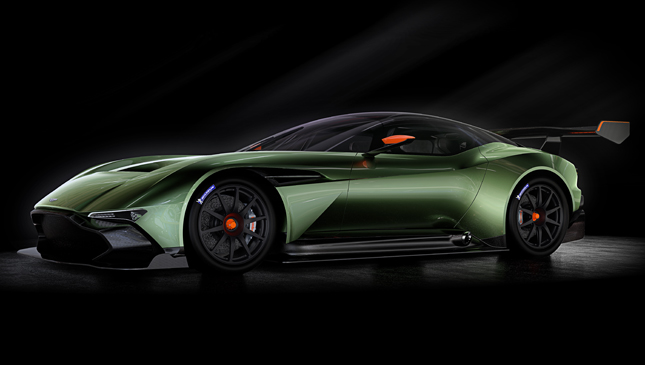 It looks like racing has been on the mind of the Brits lately. At the Geneva International Motor Show this March, British marque Aston Martin will debut a track-only supercar--its most insane creation so far. It's called the Vulcan, an 800+hp carbon-fiber monster created to tear up racetracks. It will be limited to only 24 examples, and will allow owners who know what they're doing behind the wheel to precisely tailor their track-day experience through a graduating scale of detailed power and performance adjustments.
According to CEO Andy Palmer: "The Aston Martin Vulcan is, by its very nature, a rare and thrilling supercar. Designed and engineered to deliver a genuinely bespoke driving experience that draws on our rich heritage, this car tailors its power and handling to both the capabilities of the driver and the characteristics of the track."
Styled in-house by the Aston Martin design team, this supercar is powered by a naturally aspirated 7.0-liter V12 gasoline engine. The mid-engine, rear-wheel-drive racing machine draws extensively from Aston's rich GT motorsport experience. The Vulcan's power-to-weight ratio even exceeds the Grand Touring Endurance cars that compete in the FIA's World Endurance Championship.
The engineering that went into this supercar was sourced from the brand's successful GT racing campaign. It features a carbon-fiber monocoque and body, magnesium torque lube with CF propeller shaft, and Brembo racing calipers acting on carbon-ceramic racing disc brakes. Power is channeled through an Xtrac six-speed sequential shift gearbox.
Continue reading below ↓
Recommended Videos
Before prospective owners take delivery of their cars, they will be offered an opportunity to take part in an extensive and detailed driver-training program for the track. Experienced drivers like Aston Martin Racing's Le Mans winner Darren Turner will help owners stay alive to buy future Astons. Cars that will be used for this program include the V12 Vantage S, the One-77 and the Vantage GT4 race car. Customers will gradually build experience until they are ready to handle the Vulcan.
More details, including the exact power figures and technical details, will be made known later this year. Stay tuned for updates.