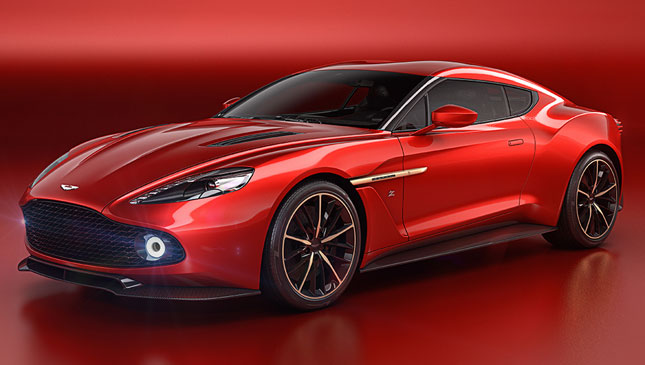 Aston Martin has a long history collaborating with the Milan-based design house Zagato. Together, the two companies have produced some of the most stunning Aston Martin models like the classic 1960 DB4 GT Zagato and more recently the 2011 V12 Vantage Zagato. These two legendary automotive brands have teamed up once again to bring you another eye-catching automobile.
Now Aston has unveiled its new Vanquish Zagato Concept at the prestigious Concorso d'Eleganza Villa d'Este event at Lake Como, Italy. As the name suggests, this concept is based on the range-topping Vanquish.
The concept is the product of Andrea Zagato's design team and Marek Reichman's Aston Martin design team. Its body is made from carbon fiber consisting of large single-piece panels to reduce unwanted cut lines. Up front is the latest iteration of the brand's family grille as seen on the latest DB11, but with a few unique touches such as the integrated circular lights and the Z-pattern grille.
Moving to the sides, we see the classic side strake with an integrated diagonal vent reminiscent of the one on the CC100 Concept. Further back are wide prominent sharp-edged haunches, a modern rendition of the curvy hips of the original DB4 GT Zagato. At each rear corner are blade-like LED taillights similar to the Vulcan race car, but arranged in a more classic circular pattern.
The most distinct feature of this car is the fastback greenhouse that oozes with Italian flavor. The blacked-out A-pillars give the glass area a wraparound visor look that, according to the carmaker, enhances its aggressive stance. The top features Zagato's iconic double-bubble roof design that blends seamlessly with the rear windshield. Unpainted carbon-fiber front splitter, skirts and rear diffuser visually highlight the car's performance capabilities.
ADVERTISEMENT - CONTINUE READING BELOW ↓
The interior might look like standard Aston Martin fare at first glance, but Zagato gave it some unique details to set it apart. The dashboard and the center console feature aniline leather and Herringbone carbon fiber, while vents and rotary dials get the shadow and anodized bronze treatment. 'Z' quilt patterns on the seats and 'Z' embossed headrests remind you how special this car is.
Under the hood of this Anglo-Italian looker is Aston Martin's naturally aspirated V12 that has been massaged to produce 592hp. That's 24 more horses than the V12 that powers the standard Vanquish. Since the Vanquish can hit 100kph in 3.8 seconds, expect the Zagato version to be a tad quicker.
Hopefully, Aston Martin puts this stunner into limited production just like its previous Zagato models.