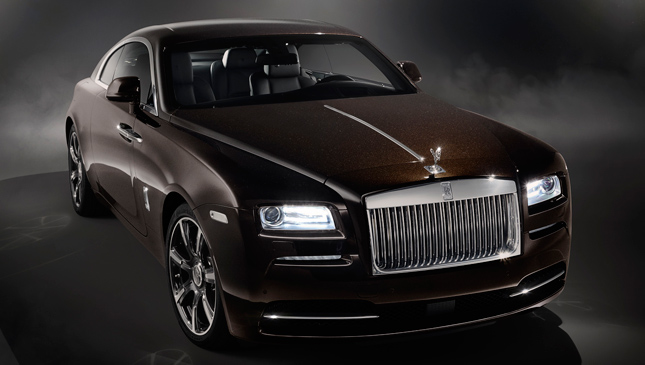 One of the benefits of purchasing a luxury car is that you also get a premium audio system. You don't get the dinky four-speaker setup installed in basic subcompacts. In fact, most high-end automobiles have systems designed by Bose, Harman Kardon, and Bang & Olufsen.
But when you're arguably the most luxurious automotive brand in the world, there's a temptation to take it up a notch when it comes to car audio. This is what Rolls-Royce just did, and the end product is called the Wraith 'Inspired By Music'. When it was introduced in 2013, the Wraith already had the most exhaustively designed sound system in automotive history care of Bespoke Audio.
Now, the British carmaker is bringing this aspect to the fore by highlighting the precious materials used in the Bespoke Audio system. The end result is a mobile music venue that delivers an unrivaled aural experience.
"The Wraith 'Inspired By Music' appeals to those looking to Rolls-Royce for unique and creative motor cars," said Torsten Müller Ötvös, chief executive officer of Rolls-Royce Motor Cars. "Its effortlessly cool appearance complements the superior Bespoke Audio system; the contemporary use of copper creates an atmospheric setting for the most encompassing music system on the market."
Continue reading below ↓
Recommended Videos
The Wraith's paint is a Lyrical Copper finish, presented with brushed and polished textures that hint at copper being used only in the very best audio systems. When one opens the doors, the reimagined speaker grilles have a copper theme, and are engraved with the words "Bespoke Audio." Copper-colored door inserts have been added to emphasize the Wraith's characteristic internal curves. The brand's fascination with copper even extends to the finish on the fascia, as well as the Wraith's signature bullet seats.
All of this would be for naught if the sound setup itself wasn't up to par. But Rolls-Royce spent two years with the best automotive audio engineers to ensure the Bespoke Audio system was perfectly tuned to the interior of the cabin. Extraordinary sound and clarity are delivered via a 1,300W 18-channel installation consisting of two bass speakers, seven tweeters and seven mid-range speakers. There are even two 'exciter' speakers custom-fitted into the car's head lining.
To show how committed Rolls-Royce is to providing the ultimate sound, microphones constantly monitor ambient and exterior noises, and will adjust the volume and tone settings independently to make sure no outside interference detracts from the owner's listening pleasure.
This kind of aural nirvana is probably too much for most people. But for the discerning audiophiles who belong to Rolls-Royce's client roster, it probably sounds just right.