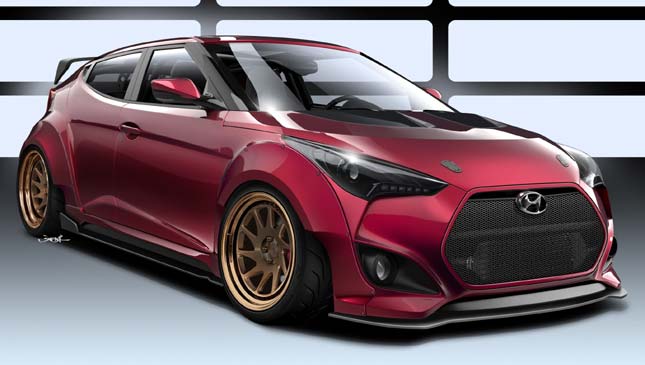 The Hyundai Veloster is admittedly one of the most striking cars in the market today. Its sporty stance, hidden third suicide door, and swoopy lines are just some cues that catch one's eye. And now, the car's attention-grabbing demeanor is about to be taken a notch higher.
ADVERTISEMENT - CONTINUE READING BELOW ↓
Thanks to the efforts of tuning company Gurnade, Hyundai Motors America has prepped a special Veloster for this year's Specialty Equipment Manufacturers Association (SEMA) show. The Gurnade Veloster Concept adds cosmetic as well as engine upgrades to give the car more street cred.
Lighter motorsports fender flares and an angry grille start off the exterior mods. A slew of carbon fiber parts can be seen on the front spoiler, side sills, hood, rear hatch, and spoiler. Cappelletti Design, meanwhile, fashioned the custom headlamps and foglamps while the PPG Refinish Magic Magenta paint is protected by InShane.
The cabin, on the other hand, gets goodies like Cobra Nogaro racing seats, a roll cage, Takata racing harness, Glowshift gauges, and LEDGlow lighting. A Creative car tunes audio system with a Phoenix Gold subwoofer and amplifier wired by Stinger, and a carbon fiber steering wheel by SoCal Garage complete the package, giving the car more of a street racer vibe.
ADVERTISEMENT - CONTINUE READING BELOW ↓
Recommended Videos
This being a performance car, it is but natural that it receives go-fast parts. These come in the form of an 845 Motorsports intercooler, cold-air intake, downpipe, and an ECU update. A Synapse blow-off valve and ARK Performance cat-back exhaust help with the power increase under the hood. These are matched by a strut bar, rear torsion bar, and tie brace by Pierce Motorsports, NEO Motorsports coil-overs, six-piston brakes, Rotiform 19-inch forged wheels, and Toyo tires in competition-spec rubber.
While the Hyundai Gurnade Veloster Concept is only a one-off model, it gives owners and would-be buyers a strong vision of how they can dress up their spiffy ride.