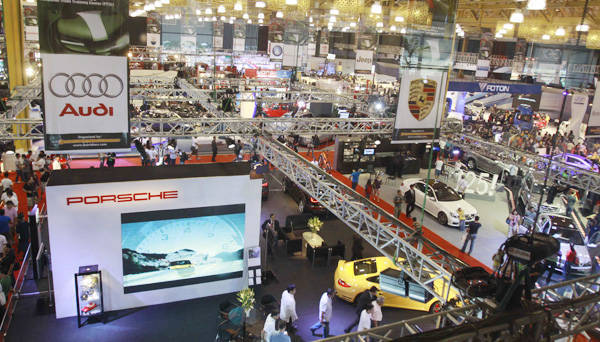 You can't find a bigger proof of the strife within our auto industry than our motor-show scene. As you know, there are presently two major car shows in the country: the annual Manila International Auto Show (MIAS) and the biennial Philippine International Motor Show (PIMS). MIAS is the longer-running of the two, with PIMS having come into existence only after members of the Chamber of Automotive Manufacturers of the Philippines--led by Toyota, Mitsubishi and Honda, among others--quit the former to organize their own show.
And that's the motor-show setup we have now: The members of the Association of Vehicle Importers and Distributors (led by Hyundai) pour the bulk of their yearly car-show budget into MIAS, and the members of CAMPI focus on PIMS and just put a token presence in MIAS via their dealers.
In the early years of this setup, the dichotomy was very apparent. You'd see grand booths by AVID members and small, why-did-they-even-bother corners of CAMPI members at MIAS. Those days may be over. According to an industry source, non-AVID members are openly fighting for floor space at this year's MIAS, which is scheduled for April 4 to 7, still at World Trade Center in Pasay City. Because of the limited space at the main exhibit hall, Worldbex Services International, the MIAS organizer, is working triple-time to meet the requirements of its exhibitors.
Due to the space constraints, Worldbex has asked some carmakers--mostly non-AVID members--to put up their booths at the tent section outside the main World Trade Center building. This has disappointed the said carmakers, who suspect that it's their AVID counterparts who are working to relegate them to a less prestigious area of the show. And they're having none of it, apparently even telling Worldbex that they will explore legal avenues to ensure they get prime space at the show, since they have long signed an agreement indicating their intent to join the show.
We asked Worldbex representative Alvin Uy, and he quashed the suggestion that the show organizer is yielding to the power play of AVID members.
"Many carmakers want to be at the main hall, but we're prioritizing brands that have been with us before--not just AVID brands," explained Uy.
So there. The main problem is the lack of floor space, not one industry faction pushing out the other. Unless an indoor venue bigger than World Trade Center is constructed any time soon, it looks like we won't see a unified car show that enjoys the equal financial and logistic support of all automakers.