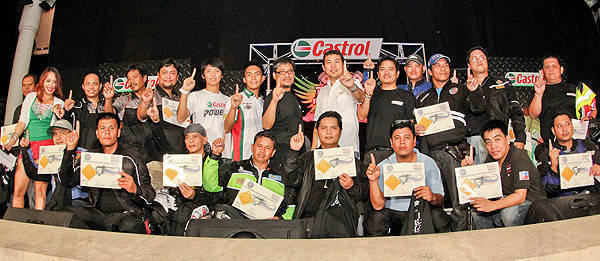 Castrol Philippines, cognizant of the country's ever-growing motorcycle population, recently launched a new line of motorcycle oils to service the needs of the market.
By bringing its Astig ng Kalsada Road Trip concert series headlined by all-female rock group General Luna to different parts of the country, Castrol Philippines is letting the motorcycle riding population know that its new Activ 4T motorcycle oil is now available in the new 800ml "Swakto" pack while the all new and reformulated Power 1 and Power 1 Racing oils are now available in one-liter packs.
According to Castrol Philippines, the new 800ml "Swakto" pack was specially made for motorcycles requiring the right amount of oil such as the popular underbones and similar small-displacement motorbikes to give riders the best protection they can get for their money while the all-new Activ 4T one-liter pack brings the same level of protection to bigger motorcycles that require one-liter of oil.
Castrol's Activ 4T with Activ Protection Molecules is a modern, high-quality engine oil developed specifically for four-stroke motorcycle engines. Its special Activ Protection Molecules cling to and protect critical engine components to provide fast and effective protection in all riding conditions. Its all-new Power1 4T with Trizone Technology, on the other hand, is an advanced premium-quality four-stroke engine oil designed for high-performance and sports bikes with its strong, fast flowing, superior anti-oxidation and superior detergency qualities pushing the bike to unleash the maximum power it's capable of generating.
Continue reading below ↓
Recommended Videos
Together with the Motorcycle Philippines Federation, Castrol Philippines seeks to redefine the meaning of the street slang "astig" as someone who rides his bike safely and responsibly with the utmost respect for his fellow riders, other vehicles and pedestrians.
Photo by Castrol Philippines and Ardie Lopez