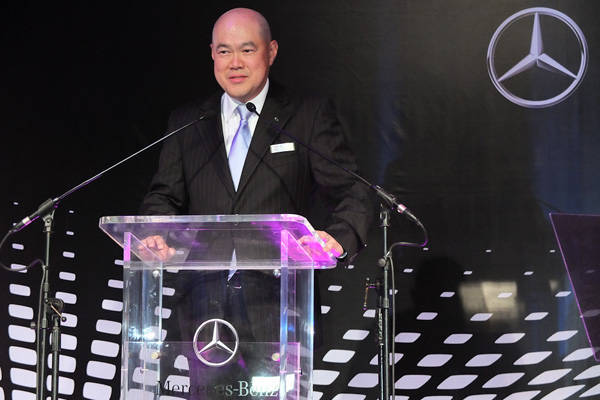 It seems like only yesterday when CATS Motors was just an aftermarket shop that sold car accessories. Hard to believe that this week, the company is already celebrating the 20th anniversary of its partnership with the German carmaker Mercedes-Benz. And to mark the momentous occasion, CATS formally inaugurated yesterday its new flagship showroom at Greenhills-EDSA and then previewed the new SL Roadster.
"CATS Motors' 20th anniversary with Mercedes-Benz is not just a success story--it is a love story, our love story with the brand," said CATS Motors president Felix Ang. "Looking back, it started with our passion to bring the same experience closer to a Filipino audience. Since then, our journey has taken us on quite an exciting ride, and we look forward to countless more years of partnership with one of the world's most desired brands."
In attendance during the elegant ceremony was Daimler South East Asia president and CEO Wolfgang Huppenbauer. "We believe that without capable partners who share the same passion and vision, Mercedes-Benz may not see the success that it enjoys today," the executive said. "CATS Motors is that partner for us in the Philippines--one that has all the ideal qualities of what we look for in a partner and echoes the values of Mercedes-Benz through and through. And as Daimler continues to focus on shaping the future of the automobile, we are confident that CATS Motors will continue to grow with us from strength to strength."
Continue reading below ↓
Recommended Videos
CATS Motors began as a car-accessories shop in the late '80s, and then evolved into a workshop-cum-showroom for Mercedes-Benz in 1992. The company went on to become an official Mercedes-Benz dealership two years later, and the rest is history.
And now, on the occasion of its 20th year as a Mercedes-Benz partner, CATS Motors has officially opened its flagship showroom in Greenhills. The new showroom is equipped with the latest equipment, furniture and other showroom materials based on the "Global Mercedes-Benz Presentation System."
"The new showroom serves as a fitting stage for the stars of the show, and is a direct representation of the quality that Mercedes-Benz stands for," declared Huppenbauer. "It showcases an enhanced design, atmosphere and functionality, giving consumers an opportunity to experience outstanding quality befitting the brand."
CATS Motors also unveiled the new-generation SL Roadster during the event. With the completely redeveloped SL, Mercedes-Benz continues a tradition that began 60 years ago.
Now, check out the photo gallery below. It features 20 memorable images from 20 years of CATS Motors' partnership with Mercedes-Benz.
Photo by Mikko David
[gallery]1238[gallery]