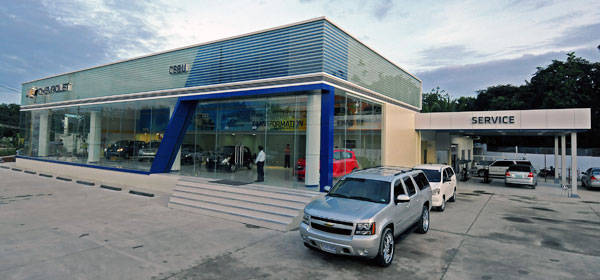 Chevrolet Philippines' fortunes in the Philippine market are soaring these days. Shortly after announcing its 36.4-percent sales growth last year, The Covenant Car Company Inc.--the exclusive distributor of Chevrolet in the country--has informed us that it recently inaugurated a spanking new showroom in Cebu. According to TCCCI, Chevrolet Cebu is now the biggest Chevy dealership in the Philippines.
The new dealership is owned and managed by Genesis Motors Corporation, a member of the PAMOCOR group of companies. Located on M.C. Briones St. in Mandaue City, the new facility has a lot area of 4,040 square meters, of which 2,994 square meters is specifically set aside for service and administration offices.
Chevrolet Cebu's showroom features a customer lounge, a kiddie corner, elegant transaction booths, and 14 service work bays.
"Chevrolet has been known globally for its automotive excellence for 100 years," said Chevrolet Cebu president and CEO Franklyn Ong during the inauguration. "Who wouldn't want to be associated with a brand that recently celebrated its centennial due to its unprecedented performance through an entire century? It's just one of the reasons why we chose to put up a Chevrolet dealership."
Other officers of Chevrolet Cebu include vice president and chief finance officer Emily Ong; after-sales director Engr. Sidney Po; general sales management consultant Teofilo del Mar; sales manager Rey Lopez; sales administration manager Elvie Alcala; and accounting manager Myrafe Arriola.
Continue reading below ↓
Recommended Videos
Chevrolet Cebu is tasked to penetrate developing markets like Bohol, the south district of Cebu, and Siquijor.
On hand to witness the February 8 ceremonies were Mandaue City mayor Jonas Cortes; GM South East Asia president Martin Apfel; GM ASEAN regional distributors operations director Akshay Kumar Jaising; GM country representative for the Philippines Dante Reyes; Chevrolet Philippines chairman emeritus Richard Lee; and Chevrolet Philippines executive director Selene Yu.
"We welcome Chevrolet Cebu to our nationwide family of Chevrolet dealerships," said Chevrolet Philippines president and managing director Atty. Albert Arcilla. "We are confident that our high expectations will be spectacularly met with this new and dedicated management team."