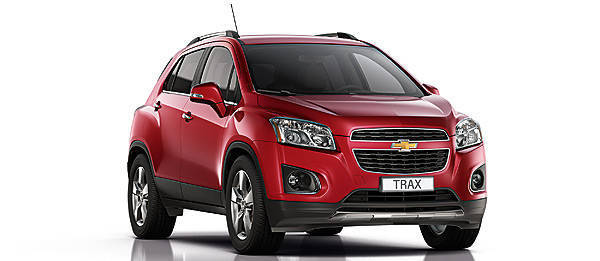 Chevrolet has finally revealed what its Trax small SUV looks like in actual sheet metal, three months after the American carmaker gave everyone a preview of it in May.
According to Chevrolet, the Trax is its first entry in the fast-growing small SUV segment, and will round out the brand's lineup of SUVs alongside the Captiva.
"For many decades, Chevrolet has been known for its dependable and capable SUVs," said Susan Docherty, president and managing director of Chevrolet Europe. "The Trax will deliver on all of the traditional Chevrolet values and more. It is a modern, highly versatile yet fuel-efficient small SUV, offering car-like handling and all-wheel drive. The Trax is the modern expression of one of Chevrolet's core competencies, which is building and selling great SUVs."
Measuring 4,248mm in length and 1,776mm in width with a wheelbase of 2,555mm, the Trax is much smaller than the Captiva although its powerful body lines belie its size.
Inside, the Trax offers a lot of storage options. Besides the 358L capacity of its cargo area, the Trax has various bins above and on both sides of the center stack, as well as an available underpass seat tray. Additional stowage space can even be made available under the cargo floor. Also, in addition to a 60/40 split rear seat, the Trax boasts a front passenger seat that can be folded flat, offering additional flexibility in the segment and giving it a total of eight seating combinations.
Continue reading below ↓
Recommended Videos
The Trax will be offered with three different powerplants: a 1.4-liter turbocharged gasoline engine that, mated to a six-speed manual transmission, cranks out 140hp and 200Nm of torque; a 1.7-liter diesel engine that, also mated to a manual gearbox, puts out 130hp and 300Nm of torque; and a 1.6-liter gasoline engine, the power output of which Chevrolet was unable to disclose. The carmaker added that a six-speed slushbox will also be offered on the 1.7-liter diesel and 1.4-liter turbo variants.
It doesn't take a genius to know what American compact SUV the Trax is gunning for.