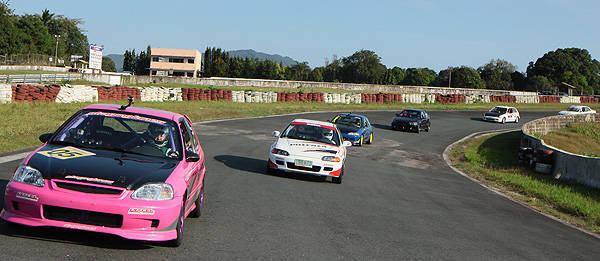 The first two rounds of the 2013 GT Radial-Circuit Showdown have been successfully staged at Batangas Racing Circuit and Clark International Speedway, with over 100 individual participants and 35 cars on the grid for each round. As always, consistency proved to be the key for a competitor to remain on top of the standings.
For the Time Attack trials:
* Joby Tanseco remains firmly entrenched on top of Bracket A, but with six more rounds to go, Niño Garcia and Carlo Mojica are still in it provided they compete and produce good results in the remaining races.
* Even though both drivers failed to win in the past two races, Richard Bodestyne and Toby Santiago are both tied for the lead in Bracket B, thanks to their podium finishes.
* For Bracket C, Trek Mendoza remains the leader despite finishing in fifth place in the second round. Edwin Rodriguez is still within striking distance after finishing the past two races in fourth place. Francio Co is also not far behind thanks to his first-place finish in the second round.
* Mark Dy made up for his fourth-place finish in the first round by coming in first in the second round, earning for him Bracket D's top spot. Marvin Pizarro's first-place finish in the first round and Don Andaya's second-place finish in the second round allow them to round out the bracket's top three finishers so far.
Continue reading below ↓
Recommended Videos
* Bracket E has Lexter Sy and Cedric Remo tied for the top spot after their first-place finishes in the first and second rounds, respectively.
* Despite finishing in third place in the past two rounds, Alking dela Cruz leads Bracket F, while a first-place finish in the second round puts Marion Mendoza in second place overall despite his ninth-place finish in the first round. A close third is Eugene Alonzo with a first-place finish in the first round.
For the Touring Car races:
* Rafael La'O's podium finish in three of the past four races--with two as the race winner--puts him on top of Grid A. Following him is Eggy Ong, who also had three podium finishes in the past four races with two in second place.
* Richard Bodestyne and Edward dela Rosa are currently tied for first place for Grid B, followed by Michael Bryan Co in third place (but is actually only a point behind them).
* For Grid C, Toby Santiago and Don Andaya are tied in first place, while Luigi Cupino lies in third.
The third round of GT Radial-Circuit Showdown will be staged at the Batangas Racing Circuit on May 4.
Photos by Marlon Dacumos