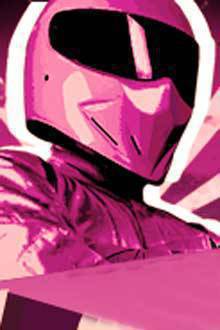 There's no doubt certain followers of BBC Top Gear want the Stig back now that the identity of the white-suited test driver has been revealed. But what is he/she/it likely to wear?
A spokesman from the United Kingdom's largest bookmaker said there's a 4-to-1 clamor for a female Stig and a 5-to-1 odds at the driver wearing pink.
"We have had several calls this morning from punters looking to bet on the next Stig being female and we cannot image that Jeremy Clarkson will be amused," a William Hill spokesman told British tabloid, The Sun.
Top Gear's first Stig lasted two seasons and wore a black racing suit. The character was "killed off" at the start of the third season in 2003 after former race car driver Perry McCarthy revealed in his autobiography that he was the driver in the black suit. He was replaced by the Stig in white for the next 13 seasons. With Ben Collins now outing himself as the "white" Stig in an autobiography, it's anyone's guess what Top Gear's has in store for the series' mascot.
ADVERTISEMENT - CONTINUE READING BELOW ↓
An on-going poll on TopGear.com.ph shows 31 percent of our readers want the next Stig to wear a red racing suit, 18 percent want to see him/her/it in gray, 16 percent in blue, 13 percent in pink, and 11 percent in yellow and green. Want to vote? Click here.
Image by Raynand Olarte