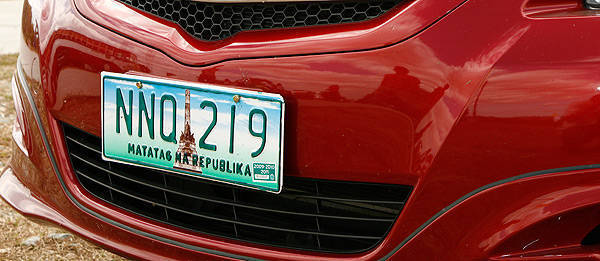 Brand-new cars sold by the second half of 2013 will bear a new standardized-format license plates, with the Department of Transportation and Communications bidding out a P3.85-billion contract for the production of these plates, according to a report by ABS-CBNNews.com.
The new plate numbers are reportedly under the Motor Vehicle Plate Standardization Program and have numerous security features on top of a bar code that contains the vehicle's chassis number and date of registration.
Most important, however, under the standardization program, the plate numbers of cars and trucks that will be registered in the country for the first time will bear a three-letter/four-digit combination, unlike the three-letter/three-digit format of current license plates. For new motorcycles, the current two-letter/four-digit format will be replaced by a two-letter/five-digit combination.
The report cited DOTC secretary Joseph Emilio Abaya as saying that the standardization of license plates for motor vehicles and motorcycles would "ease the problems in identifying counterfeit plates, the use of dilapidated plates, and the non-replacement of lost plates."
As for the bid, the winning bidder will supply and deliver all license plates, "including screws and stickers, to the Land Transportation Office" for five years from July 2013 to June 2018. The report also noted that each pair of motor vehicle plates, including stickers and screws, should not exceed P450, while motorcycle plates with stickers and plate screws should not cost more than P150.
No mention was made of the previous winning bidder in the LTO's license-plate production, which, according to the agency in September 2012, was having difficulty producing a standard license plate that adhered to LTO and DOTC standards.
What do you think of the new-format license plates?