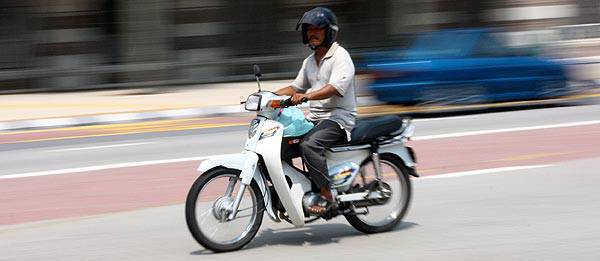 The helmet law requiring all motorcycle riders to wear one while operating or riding a motorbike was supposed to be enforced throughout the Philippines starting today, August 1st. Instead, it has now been pushed back to January 1, 2013.
The helmet law's enforcement was postponed after the Department of Trade and Industry requested the Department of Transportation and Communications that it be given more time to inspect all the helmets that are being brought into the country. According to the DTI, it wants to ensure that all helmets that are coming into the country bear the Import Commodity Clearance seal issued by the Bureau of Products Standard.
With the helmet law's enforcement being moved to January 1, 2013, the DOTC has directed the Land Transportation Office "to instruct its enforcers to issue reminders to motorcycle drivers about the issue starting August 1 until the end of the year" with no punitive measures--like the issuance of citation tickets--concerning helmet use during this period.
From January 1, 2013, however, motorcycle riders caught driving or riding without a protective helmet that bears the ICC seal will be issued citation tickets and penalized from P1,500 for first-time offenders to P10,000--along with the confiscation of the driver's license for violators who are apprehended for the fourth time.
Continue reading below ↓
Recommended Videos
So from today, August 1, until December 31, 2012, motorcycle riders and owners can submit their helmet for inspection and validation at the nearest DTI office to have the ICC sticker attached to it. According to the DTI, to process the inspection and validation, helmet owners must fill out an application form, which will be available at its offices, and attach to it a photocopy of a government-issued ID like their driver's license.
According to the DTI, both the application form and the processing of the helmets for the ICC stickers are free of charge.