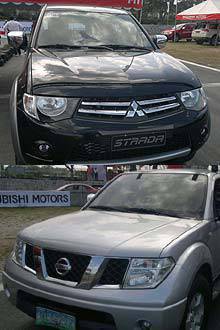 As you already know, Mitsubishi Motors Philippines presented the new variable-geometry turbo Montero Sport to the motoring press last week. The carmaker also let us drive the thing around a makeshift dirt track and in an acceleration-and-braking exercise. When the dust settled, Mitsubishi took the similarly powered VGT Strada out on the paved track and handed its keys to...Top Gear Philippines' very own Botchi Santos.
And just for fun, Mitsubishi's marketing strategist, Arlan Reyes, challenged C! magazine's James Deakin to line up his own Nissan Navara on the grid alongside the new VGT Strada. Yes, Mitsubishi threw down the gauntlet: Strada versus Navara in a no-frills drag race. It seemed like a fair fight: Both units were 4x4; both had five-speed automatic transmissions; and both had 2.5-liter CRDi turbodiesel engines.
Continue reading below ↓
Recommended Videos
Of course, there's a bit of a difference now. Previously, the Navara had been the most powerful in its class with 174ps of output and 403Nm of torque. Not anymore. With the Strada now equipped with a variable-geometry turbocharger, it has upped its output to 178ps and its torque to 350Nm. The Navara still has more torque, but the Strada now has a slight edge in the horsepower department.
Still, the two pickups seemed like a perfect match for each other overall. And so James accepted the challenge and positioned his Navara at the starting line. The rule was simple: First to reach the end of the main straight of Clark International Speedway wins. Again, it would be Botchi piloting the Strada, with James manning his own Navara.
The winner?
First, a small footnote: James's Navara had a roof rack. We don't really know whether a roof rack had any significant effect on a short sprint through a straight that must not have been more than 500 meters (our technical editor Ferman Lao says Clark International Speedway's main straight measures some 900 meters, but the distance used for drag racing is just 400 meters). But assuming it did, we'd like to point out now that the Strada also had a weight handicap since Botchi is heavier than James. A fair enough way to balance things out, right?
Alright then. And the winner was...
The Mitsubishi Strada 4x4! "By three car lengths," said a gloating Botchi. (Spectators--us included--had a hard time judging from the starting line.) "Just by two-and-a-half car lengths," countered James.
Well, do you think this "drag race" was truly indicative of the two pickups' performance potential?
[gallery]787[gallery]
[poll]202[poll]
Photos by the author, video by Ferman Lao