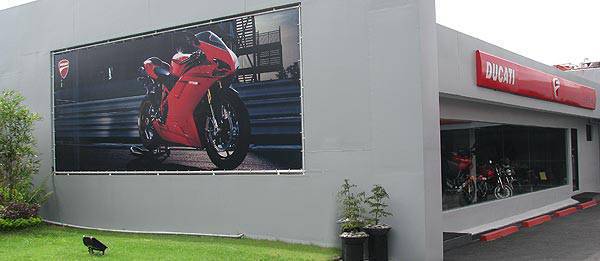 Ducati owners south of Manila no longer have to ride all the way to Quezon City as Ducati Philippines has recently opened a new dealership in Makati.
Owned and operated by three fervent Ducati motorcycle owners who own at least eight of the Italian motorcycles between them, the dealership unofficially opened its doors in October 2010 even though the facilities like the service area and the pre-delivery inspection area were yet to be completed. Ducati Manila South, as the dealership is now called, was formally inaugurated on December 11, 2010.
As part of Ducati's requirement before accrediting Ducati Manila South as a legitimate dealer, one of its owners had to undergo a technical and service training in Ducati Japan.
"That's why on weekends, you'll often find me in the service area, tinkering with the motorcycles," said Rainerio Borja, the most vocal partner of the three owners.
According to Borja, the dealership's sales have exceeded their expectations. Though he declined to give a specific figure, Borja admitted that they've sold more than 10 units in the month and a half Ducati Manila South has officially been in operation, with the P1.150 million Streetfigher as the most popular model.
Parts availability also isn't a problem for the dealership, said Borja, as they regularly receive parts every month.
Continue reading below ↓
Recommended Videos
More than just a dealership
Ducati Manila South offers more than just motorcycles. It also serves as a lifestyle store for anything Ducati-related, from the motorcycle accessories to the Ducati-branded apparel and footwear. The dealership's atmosphere is also very laid-back with expansive leather couches, LCD TVs and freshly-brewed Italian coffee entertaining visitors while the outdoor garden can serve as an informal gathering area for a weekend barbecue with customers.
"Ducati Manila South specifically caters to the market south of Manila," said Art Harrow, general manager of Ducati Philippines. "Before, the usual complaint of Ducati owners who live in the south was that it was hard to ride their bikes all the way to Quezon City to get their bikes serviced. Ducati Manila South solves that problem since it's located right at their doorstep."
The Ducati Manila South dealership is located in Bangkal, Makati along the soutbound-lane of the South Superhighway before the infamous West Tower condominium.
[gallery]739[gallery]