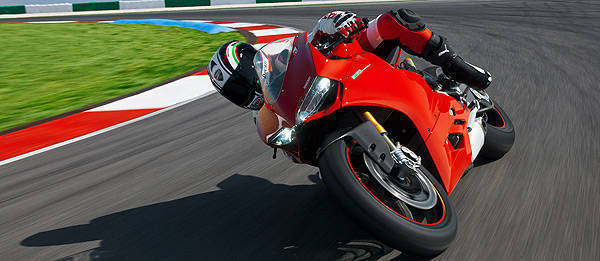 Ducati has finally revealed its latest superbike that, it claims, not only sets the most extreme benchmark ever but also "represents one of the most historic moments in Ducati's incredible Superbike history."
With Ducati's designers and engineers given the task to create a superbike that weighed 10 kilograms less but had 25 more horsepower than the 1198, every detail of the 1198's successor has been driven entirely by a zero-compromise brief to create the highest performance Ducati superbike of all time in the 1199 Panigale.
"Every last detail of the 1199 Panigale pays tribute to our rich heritage of racing: each component is not only functionally efficient, but beautifully engineered into pieces of automotive art," Ducati said in a statement.
According to Ducati, the 1199 Panigale's chassis represents a step forward in motorcycle design, merging multiple parts into one compact and lightweight component while re-evaluating rider posture with a revised ergonomic triangle.
One such example is by using the 195hp Superquadro engine as a stressed member of the chassis with the short and strong monocoque made in die-cast aluminum to save 5kg of the overall weight saving of the new design, giving the 1199 Panigale a dry weight of just 164kg. Although the weight distribution of the 1199 Panigale is 52 percent at the front and 48 percent at the rear minus the rider, it becomes an optimal 50/50 once the rider gets on, ensuring the bike's maximum stability and agility.
Continue reading below ↓
Recommended Videos
The 1199 Panigale also introduces a very latest in sport-oriented ABS technology to enable full integration with the three-programmed riding modes.
Operating with the latest generation 9ME Bosch processor, the system enables full ABS on the front only when in race mode, allowing the rider initial braking drift on the rear during race track corner entry. The system also boasts a refined "rear lift-up" detection activated in sport and enhanced in wet-riding modes.
No word yet if and when Ducati Philippines will bring the 1199 Panigale to its dealerships in the country.
As we previosuly reported, Ducati's new superbike broke with tradition by adding a name to its 1199cc engine capacity. Called the 1199 Panigale, the motorcycle got its name from the Borgo Panigale region of Ducati's hometown in Bologna, Italy.
[gallery]1082[gallery]