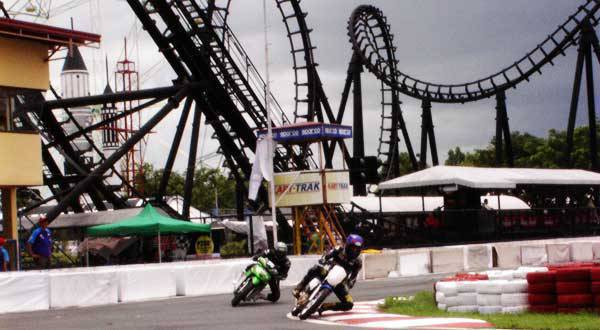 Enchanted Kingdom
continues to promote local motorsports as it gears up for another series of races in August.
The races have evolved from a week-long event last year to a five-week speed festival dubbed as Speed Month @ EK.
"Motor sports enjoy a natural affinity with the city of Santa Rosa, known as the 'Detroit of the Philippines,' and home of the assembly plants of Ford, Toyota, Nissan, Honda and Mitsubishi. Races, like theme parks, are top crowd-drawers and Enchanted Kingdom is proud to showcase both at the same time," EK president and chairman Mario Mamon said.
Speed Month @ EK races include the Magnolia Karting Series (August 1 and 2) and the Magnolia Health Tea Underbone King Championships on (Aug. 8 and 9) led by the Carmona Race Trak, the National Slalom Series (Aug. 9) led by Race Motorsports Club, the Philippine Autocross Championship Series (Aug. 22 to 23) by Shago Racing, and Rally Extreme (Aug. 2 and 30) by Roadwise Motoring Foundation. The races are supported by the Automobile Association of the Philippines.
Drivers with a valid license can also avail of Enchanted Kingdom's Regular Day Pass for only P350 for the whole month of August. The special rate is P50 lower than the
ticket price
on weekdays and P150 less than the tickets sold during weekends.
Continue reading below ↓
Recommended Videos