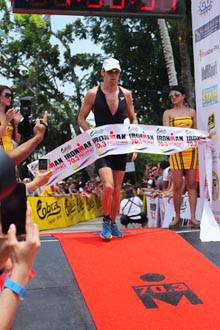 "Jenson" could be a name synonymous with speed.
Former Formula 1 world champ Jenson Button has demonstrated speed once again--not on an F1 track but on a 70.3-mile triathlon course. On August 5, he zoomed past other triathletes at the Cobra Ironman 70.3 in Cebu City, where he bagged third place in the 30-34 male age category.
Button finished his very first half Ironman distance—1.9km swim, 90km bike, 21km run—in 4 hours, 35 minutes, 49 seconds. He was about 8 minutes behind August Benedicto, the first Filipino to cross the finish line. Button's coach, Paul Ryman, emerged the winner of the 30-34 male age group.
The UK-based F1 driver and triathlete finished the 1.9km swim in 25 minutes and 41 seconds, the fifth-best time among 201 athletes in his age group. He battled headwinds and crosswinds in the 90km bike leg and reached the transition area after 2 hours, 24 minutes and 42 seconds, the fourth-best time in his age category. Button's half-marathon (21km) time in Cebu's scorching heat was 1 hour, 41 minutes and 36 seconds.
Jenson finished 14th overall, just 21 seconds behind Filipino elite Franklin Peñalosa.
After crossing the finish line and with enough energy in his tank, Button went back to the run course to pace his girlfriend Jessica Michibata to the finish. The 2009 F1 champion's strong finish qualified him for the Ironman 70.3 World Championship in Las Vegas, Nevada, set for September 9, 2012.
Continue reading below ↓
Recommended Videos
Just like Naga City, the former Cobra Ironman 70.3 host city, Cebu had supportive locals cheering on athletes, as tweeted by Button: "Support here in Cebu has been fantastic with over 30,000 people lining the streets in the race. Super tough, hot race but worth it."
Photos by Mikko David
[gallery]1243[gallery]