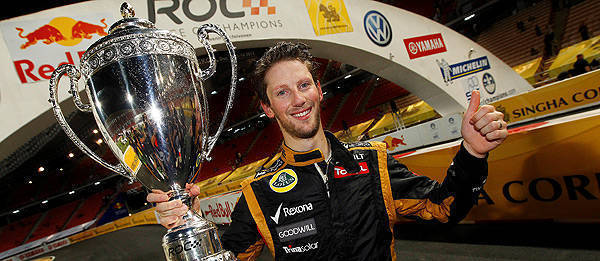 Despite the flak he received in the 2012 Formula 1 season for his penchant for crashing into other cars, Romain Grosjean of France can now proudly say he's beaten some of the world's best drivers by bagging the 2012 Race of Champions trophy this past weekend in Bangkok, Thailand.
Grosjean's victory came at the expense of Le Mans veteran Tom Kristensen, who was hoping to snag his first individual Race of Champions title in his 12th year of participating in this annual racing spectacle.
Grosjean's path to the title saw the Lotus F1 driver face two of the sport's champions before he could win the highly coveted Champion of Champions honor. For the quarterfinals, Grosjean won against Sebastian Vettel after the 2012 F1 champion made a mistake and hit a barrier hard. In the semifinal stage, he convincingly beat seven-time F1 champion Michael Schumacher.
"It got a bit tough in the group stages, but I managed to make it through," said Grosjean. "Then I had to face Sebastian Vettel in the quarterfinals before Michael Schumacher in the semifinals. Then I had the final with Tom. We've had a good history at this event and I've raced him before, so it was good to face him in the final. I got a bit of extra luck to be in the right car at the right time, but it felt good."
Continue reading below ↓
Recommended Videos
For the Nations Cup, Germany, represented by Schumacher and Vettel, won its sixth straight title by beating France, which had Grosjean and World Rally Championship driver Sebastien Ogier as its representatives to the race.
The German duo took the Nations Cup by being undefeated as they nabbed 10 wins out of 10 races.
"Even Michael hasn't managed six titles in a row before, so this is something special," said Vettel. "Six years is a long time, and now we can look back and know we've won for the last six years. We all love coming here as it's a special event. It's a privilege and an honor to race with these guys."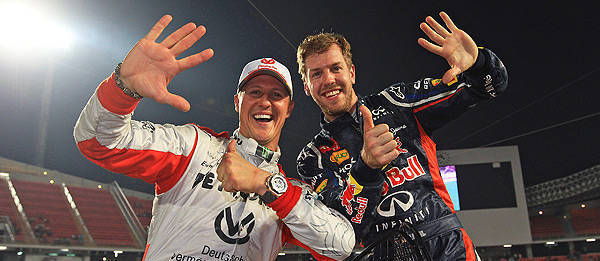 Photos from RaceofChampions.com