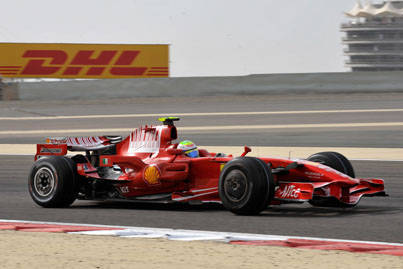 Heavy rains may have disrupted recent races, but a full-on race may finally take place as Formula One moves on to the dry Middle East region.
Bahrain skies are expected to be clear on Sunday when F1 drivers take on the 5.412-kilometer Bahrain International Circuit - constructed as a "national objective" under Crown Prince Shaikh Salman bin Hamad Al Khalifa. Prince Khalifa conveniently happens to be the Honorary President of the Bahrain Motor Federation.
The track is technically demanding with many slow corners. Good traction is important especially in the tight Turn 1 since the sand, not to mention the hot desert weather, causes a high level of tire wear.
Continue reading below ↓
Recommended Videos
Track designer Hermann Tilke created the circuit with generous run-off areas that presents plenty of overtaking opportunities to encourage drivers to push harder. However, some are wont to abuse the wide open space since there are no tire walls to punish those who stray off the track.
Teams to watch
Although Red Bull and Sebastian Vettel will look to make it two in a row, the hot climate negates his now-obvious talent in the wet. With Red Bull's chief technical officer Adrian Newey still hard at work in coming up with the team's own double-deck diffuser, the team might find itself in the middle of the pack again.
This only means that Brawn GP may re-establish its diffuser's advantage. With the F1 moving on to Europe for the next nine grands prix, the rest of the field are expected to unveil their updated aero package, including their own double-deck diffusers.
Toyota is another team keen on making its presence felt again after its dominant form at the start of the season was thwarted by Red Bull's quick climb to take second place in the constructors' standing.
For Williams, it's now-or-never. As the third team to use a double-deck diffuser, the team's race results so far are off the mark compared to those of Brawn GP's and Toyota's.
While Ferrari has done a good job on the Bahrain track in the past, it is hard to be optimistic about the team considering its bad start this year. The group is still skeptical about their KERS (Kinetic Energy Recovery System), and its aero package is not working. On Sunday, the team will probably just go through the motion, eager to go back home and try out its new aero package.
Little attention has been paid to how both McLaren and Renault have been 'successfully' using their KERS so far. And with 'success' being relative, this weekend's race should give more clues as to where the teams are headed.
Who makes it to the podium is anyone's guess. One thing for sure is that they won't be spraying off champagne. Although alcoholic beverage is legal in Bahrain, a non-alcoholic rosewater drink is used to celebrate victory as a sign of respect to mostly traditional Muslim spectators in the venue.