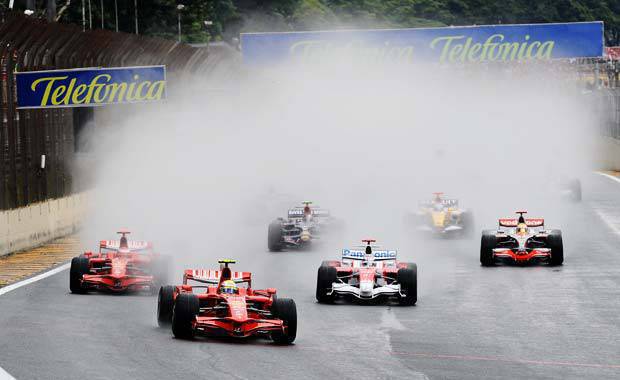 For the first time since 2005, the Formula 1 circus will not wrap up the season at the Brazilian Grand Prix. That honor--for this year at least-- belongs to the Yas Marina Circuit in Abu Dhabi. 
Brazil's 71-lap race is run at the 4.209km Autódromo José Carlos Pace, more popularly known as Interlagos. It is one of only four anti-clockwise circuits on the F1 calendar. At 800m above sea level, it is also the highest track of the year.
ADVERTISEMENT - CONTINUE READING BELOW ↓
With the Interlagos circuit at such a high elevation, engines lose as much as eight percent of their output. This means engines work a lot less than they are usually subjected to. That's a good thing considering some drivers, like BMW Sauber's Nick Heidfeld, are already on their ninth engine while others, like teammate Robert Kubica and Red Bull Racing's Sebastian Vettel, are already on their eighth and last engine for the season. The thinner atmosphere also affects a car's aerodynamic set-up, and with Interlagos' bumpy surface and hilly terrain, the task of navigating through the track is a perennial challenge for not only the drivers, but for the teams' race.engineers as well. They have to find a perfect balance between their drivers respective driving style and the car's suspension load to survive the track.
Interlagos is many a driver's favorite track with its long straights and flowing corners coupled with a twisty infield section. Since the Brazilian Grand Prix is at the tail-end of many F1 seasons, the track has seen many championship battles conquered on the tarmac.
ADVERTISEMENT - CONTINUE READING BELOW ↓
Recommended Videos
Last season, Ferrari's Felipe Massa finished the Interlagos race in first place but lost the title when McLaren's Lewis Hamilton overtook Toyota's Timo Glock at the very last corner of the final lap to finish in fifth place and clinched the driver's ttile by one point. Hamilton's win echoed how Massa's teammate, Kimi Raikkonen, won the 2007 championship when he overcame a 17-point deficit over then points-leader Hamilton by winning the season's last two races in China and Brazil.
Brawn GP's Jenson Button stands a good chance of claiming the driver's title on Sunday as long as he finishes no worse than third place. Button has a 14-point lead over teammate Rubens Barrichello. It remains to be seen how Barrichello performs in front of his home crowd as this could either inspire or hamper his performance on track.
"The Brazilian Grand Prix is always a special weekend for me and I am very proud of my home race," said Barrichello in Brawn GP's official website. "It's fantastic to race in front of the Brazilian fans and receive so much support over the weekend. I will be giving it my all this weekend to achieve the best possible result here in Brazil and hope the fans enjoy a fantastic weekend of racing."
ADVERTISEMENT - CONTINUE READING BELOW ↓
Pressure remains on Red Bull Racing's Sebastian Vettel since he has to finish in either first or second place to stay in the running for the title chase.
As for the constructor's championship, all Brawn GP needs to secure it is to finish the race with just half a point. Red Bull Racing can still win the title though, but they would need both drivers to finish in first and second place in Brazil and Abu Dhabi and hope Brawn GP finishes without a point.