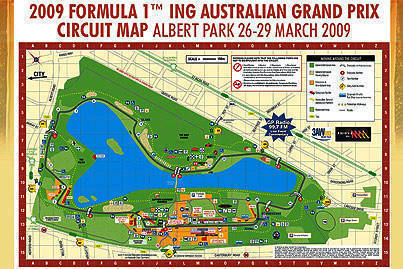 All roads lead to Melbourne as the prestigious Formula One (F1) series kicks off in Australia today.

Ten teams take on a 5.3-kilometer F1 track that combines 16 corners on both public roads and a permanent race course around the man-made Alberta Park lake. With this layout, a good portion of the track has a very smooth surface that, when combined with sweeping fast turns and tight corners, make for a tricky and demanding circuit for F1 drivers.

Following the success of last season's first ever night race in the Singapore Grand Prix, F1 supremo and commercial rights holder Bernie Ecclestone wanted the Aussie GP to be the next event to hold such a race. After coming to a compromise with Ecclestone, however, this season's race will now get the green light at 5 p.m. Melbourne time (2 p.m. in Manila) instead of the usual noontime start.

Since the 2009 season sees a radically different race, making predictions as of this moment on who'll do a good job and who'll be just awful seems far-reaching.

If the pace during pre-season testing is to be believed, it looks like Brawn GP is the team to beat after being in limbo for a few months. Brawn GP topped the time sheets ahead of the likes of Ferrari and BMW in the last two weeks of test sessions before the in-season test ban took effect.

Still, pre-season test results hardly prove a team's competitiveness come raceday. McLaren has been known to sandbag their test sessions so that their rival teams have no idea what their actual race pace is until the actual race goes off so team principal Martin Whitmarsh's confession of a 'performance shortfall' might just be all talk.

Threatening to put a damper on the race is the so-called 'diffuser row.' The diffuser that WilliamsF1, Toyota, and Brawn GP were using during the off-season test sessions were much bigger than what the current regulations allow, bringing up a possibility of a protest from seven teams before a wheel even gets turned during the race.

The one person that could help clear the issue, FIA president Max Mosley, has been vague about it and has indicated that the solution could come as late as the European leg of the circuit.

As for the much-ballyhooed KERS (Kinetic Energy Reserve System), whichever team uses and masters the technology this weekend will serve as a pioneer for those who are still trying to adapt it successfully into their cars.


ADVERTISEMENT - CONTINUE READING BELOW ↓