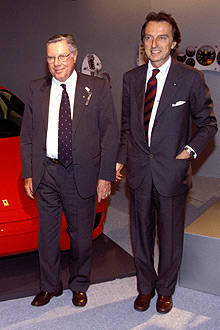 Sergio Pininfarina, honorary chairman of the Pininfarina Group, passed away yesterday, July 3. A graduate of mechanical engineering from the Polytechnic of Torino in 1950, he began his career in the family firm, Carrozzeria Pinin Farina, where he climbed up the corporate ladder. With his father's death in 1966, Pininfarina became the chairman of the company, a position he held for 40 years before being named as honorary chairman in 2006.
Pininfarina the man and Pininfarina the company are largely responsible for some of Ferrari's most iconic car designs, having worked closely first with Enzo Ferrari and now with the Italian carmaker's current chairman, Luca di Montezemolo. Not only have all of Ferrari's production models since the 1952 212 Inter Cabriolet been designed by Pininfarina in Turin, the coachbuilder was also responsible for numerous one-offs and limited-edition models like the 375MM commissioned by Roberto Rossellini for Ingrid Bergman in 1954 and the 2002 Enzo Ferrari.
"An exceptional person who connected his name indissolubly with our history and our success," said di Montezemolo. "Calling his relation with Ferrari legendary is insufficient. First with Enzo and then with me, he designed some of the most iconic models, such as the Testarossa and the Enzo, just to name two. I wish to remind you of the work we've done together for the Maserati Quattroporte, which remains one of the most beautiful cars ever built. He was a great advocate of Italian design, thanks to his sense for elegance. He was part of Ferrari's board of administration for many years, and I will always be profoundly connected to him, so much so that I wanted to dedicate a model to him and his son Andrea: the SA Aperta."
Continue reading below ↓
Recommended Videos