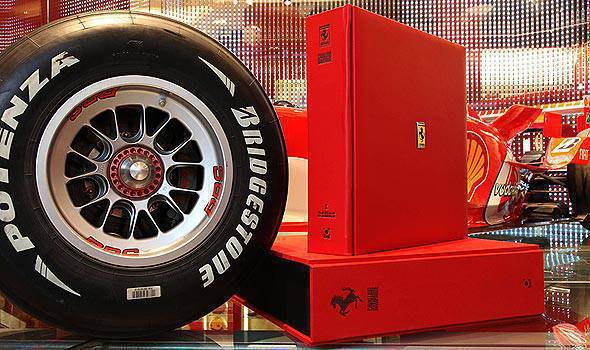 Rare automobiles aren't the only limited-edition items carmakers are busy preparing. Ferrari, in partnership with publishing house Kraken Opus, is coming out with a book in three limited editions.
The Official Ferrari Opus, an 852-page book, weighs 37kg, has approximately 200,000 words and 2,000 images, and contains details on every Ferrari road car, race car and even its professional drivers since the Italian carmaker was founded in 1947. The book is also leather-bound and hand-stitched and comes with its own customized clamshell case.
Why three editions? Here's the thing: You shell out more cash, you get a rarer edition--along with the extras that come with.
The "standard" Classic edition, for example, is limited to 4,100 copies, has a silk-cloth covered clamshell case and has a silver-foiled signature sheet signed by current Ferrari Formula 1 drivers Fernando Alonso and Felipe Massa.
The Cavallino Rampante edition, meanwhile, is limited to just 500 copies, includes the "personal signatures of Ferrari greats, past and present," and has the same official Ferrari badge that grace Ferrari's road cars on the book's cover.
What's really worth saving for if you can, however, is the Enzo edition. Named after the marque's founder, the book is limited to 400 copies, comes in a black carbon fiber clamshell case that has the iconic Ferrari racing shield, and is "personally signed by all living Ferrari world champions on an individually numbered, silver-foiled signature sheet."
Continue reading below ↓
Recommended Videos
For those looking for the ultimate luxury collector's item, Kraken Opus is also offering to turn any one of the 400 Enzo copies into the Enzo Diamante edition.
As the name implies, this particular book will have a diamond-encrusted silver Prancing Horse logo studded with approximately 1,500 stones from Siroya Collections. Adding to the Enzo Diamante edition's exclusivity is that only one edition will be made available in any one country and that each copy comes with a personal note from Ferrari president Luca di Montezemolo on his own letterhead welcoming owners to their highly exclusive edition.
Lastly, to make the experience of owning an Enzo Diamante edition even more special, each owner of this very exclusive and very expensive edition will automatically be a part of an official Ferrari Opus draw for a chance to win one of only five F2005 replica F1 cars to be built by Ferrari. Driven by seven-time world champion Michael Schumacher, the F2005 was Ferrari's 51st single seater that was specifically designed and built by Scuderia Ferrari for the 2005 season.
Kraken Opus is selling the Classic edition at £2,000 (P140,515.49 at £1:P70.258), the Cavallino Rampante at £3,750 (P263,475.13) and the Enzo edition at £20,000 (P1.405 million). Though Opus didn't state how much the Enzo Diamante edition will cost, NewYorkTimes.com believes it "may sell for $275,000 or more each."